Press2Paste Review: Does it Work?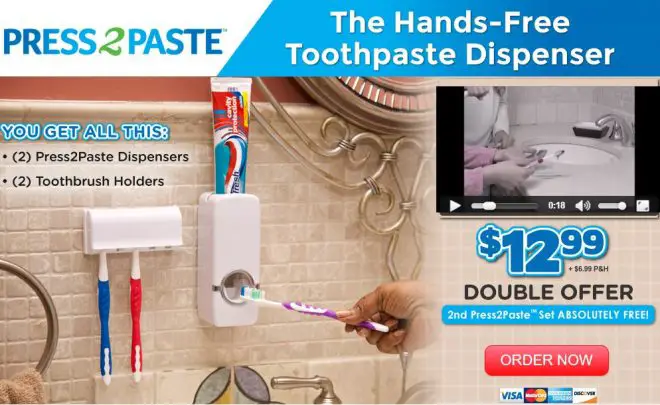 Press2Paste is a toothpaste dispenser and holder, which is said to offer a mess-free design. Read our Press2Paste review.
Sponsored Links
About Press2Paste
Press2Paste is a toothpaste dispenser which allow you to avoid mess while dispensing an even amount of toothpaste every time.
The official product website is press2paste.com, which was registered in August 2015. The screen capture below shows how the official website looked in June 2016.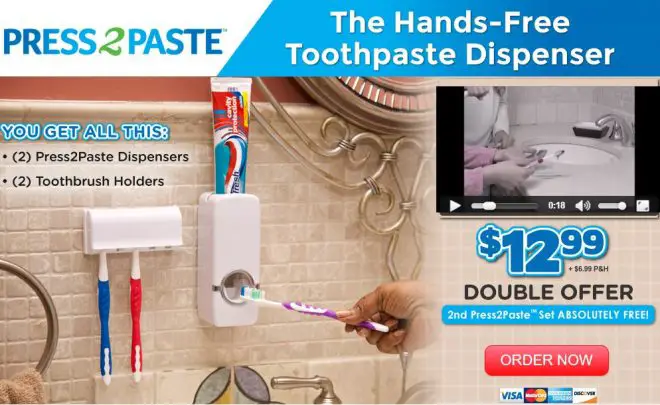 Claims and Features
Keeps sinks clean
Dispenses the "perfect amount" of toothpaste
No waste: Entire tube is dispensed
Can hold 5 toothbrushes
Attractive design
Installs to any surface
No batteries or wires
Cost
Press2Paste costs $12.99 + $6.99 P&H for a total of $19.98. This includes two dispensers and two toothbrush holders. There is a 30-day money back guarantee, minus shipping.
There is a Deluxe version which features antimicrobial coating, re-positionable mounting tape, and a 90-day warranty.
As of August 2015, you can find Press2Paste in some stores such as Walmart. You're likely to see it in the As Seen on TV section.
Press2Paste Review
This product includes a toothpaste dispenser and toothbrush holder which are described as a way to keep your counters mess-free. Press2Paste is said to dispense the "perfect amount" of toothpaste every time with a simple push of a lever. By keeping brushes off of the counter, this is supposedly a more sanitary option.
Sponsored Links
Press2Paste is actually two units: a dispenser and a toothbrush holder. These are attached to the wall with a two-sided tape, and provide an attractive place to store toothbrushes and toothpaste.
Operating the unit is as simple as placing your toothbrush into the opening and pressing a lever. This dispenses toothpaste onto your toothbrush.
On the good side, Press2Paste offers an attractive alternative to laying toothbrushes and toothpaste on the counter. Placing them in a designated holder seems more sanitary than leaving it by the sink. The dispenser is also superior to the sticky residue that often accompanies toothpaste tubes.
Another good feature of Press2Paste is that it allows you to dispense all of the contents of a toothpaste tube, which is virtually impossible to do manually.
Most consumers have expressed satisfaction with dispensers of this design, although we take pause in a design which requires everyone who uses it to place the head of their toothbrushes into the unit.
The majority of consumers have not mentioned the fact that everyone will touch their used toothbrushes against the lever. The fact that the Deluxe model includes an antimicrobial coating tells us that this concern is at least on the company's radar.
Other items to consider are that the amount dispensed may be the "perfect amount" in the eyes of the designers, but not all customers have the same idea of what the ideal amount is. We felt it was a bit more than the pea-sized amount which is typically recommended.
Small child-size toothbrushes may have heads which are too small to catch the dispensed toothpaste, although your mileage may vary. If the toothpaste doesn't hit the mark, the inside of the unit can become as messy as the counters used to be.
Press2Paste is not the only game in town, as there are similar devices on the market. You may be interested in the $16 Native Spring Toothpaste Dispenser which looks almost identical to Press2Paste. That product sports rather high reviews online.
Overall, Press2Paste is not a bad design, despite a few flaws. Our biggest concern is the fact that multiple used toothbrushes will be inserted into the unit, which doesn't seem to be a sanitary improvement over placing it on the counter.
Television Commercial
Your Press2Paste Reviews
Have you used Press2Paste? Let us know what you think by leaving a comment below and a star rating above.
Updated August 15, 2016