Prevagen is advertised as a product which can help improve memory. Today we take a closer look at this product.
Sponsored Links
About Prevagen
Prevagen is a product by Quincy Bioscience that allegedly improves your memory via supplements including the ingredient apoaequorin to help with memory problems as the consumer ages.
The official website is prevagen.com, which was created on October 14, 2005. The company can be contacted at:
Quincy Bioscience
301 S. Westfield Rd, Suite 200
Madison, WI 53716
888-565-5385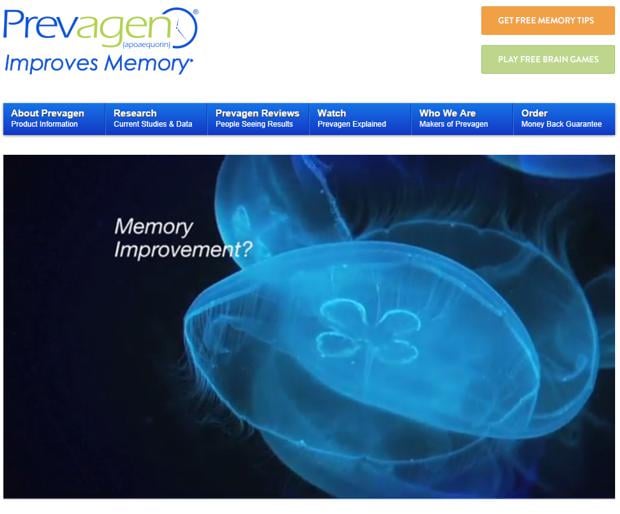 Claims and Features
This product claims to be the only product that contains apoaequorin, which was acquired from Aequorea victoria, a type of jellyfish. According to their study, Prevagen has shown to "significantly" improve the consumer to recall and to learn new things. It is available without prescription. They have links to internal research here. The three studies listed are said to have shown improvement in memory and sleep.
How much does Prevagen cost?
Prevagen has various package prices and deals with the standard shipping rate of $5.95 and $9.95. They have a 30-day "100%" money back guarantee. The item is also available in stores such as Walgreens, CVS, Rite Aid, and the Vitamin Shoppe.
Products Similar to Prevagen
There are other memory-improving products on the market, with different ingredients and varying reported results. Such products include Alpha Brain and Focus Factor.
Sponsored Links
Prevagen Reviews
Reviews for Prevagen on Amazon are somewhat mixed, although leaning toward the positive with a 3-star rating. Some customers believe it helps them, while others have said it did nothing. Some have suggested that the product's efficacy could be the result of the placebo effect.
Legal Concerns
In 2012, the FDA issued warning letter regarding Prevagen. Regarding the marketing, the FDA wrote:
The therapeutic claims on your websites (see "Unapproved New Drugs" section below) establish that these products are drugs because they are intended for use in the cure, mitigation, treatment, or prevention of disease. In addition, statements on your www.hopetrials.com website establish that Quincy Bioscience has been sponsoring clinical trials to investigate the use of apoaequorin to treat or prevent disease for which there is no investigational new drug application (IND) in effect. The investigation and marketing of your products for these uses violates the Act.
The FDA also noted that the company received more than 1000 product complaints, but only investigated or reported two.
By late 2013, it was reported that Quincy Bioscience had responded to many of the FDA's requests, although the case was still listed as "open."
In 2014, a class action lawsuit referred to Prevagen as having "potentialy life-threatening side-effects." The lawsuit claimed that Prevagen could cause fainting, irregular heartbeat, chest pain, vertigo, tremors, seizures, strokes, and exacerbate multiple sclerosis.
Despite some legal challenges, Prevagen continues to advertise as of April 2015.
Television Commercial
Below is a television commercial for Prevagen.
Your Prevagen Reviews
Have you tried Prevagen? Please give us your review in the comments below and give it a star rating above.
First published September 2014
Modified April 7, 2015