ProCool Sleeve is a comfortable compression sleeve that also makes use of cold therapy. Does it work as advertised? Here is our ProCool Sleeve review.
Sponsored Links
About ProCool Sleeve
ProCool Sleeve is a lightweight sleeve that combines compression and orthopedic cooling gel technology. The official website is procoolsleeve.com, with a registration date of July 2017. The screen capture below was taken of the product website in September 2017.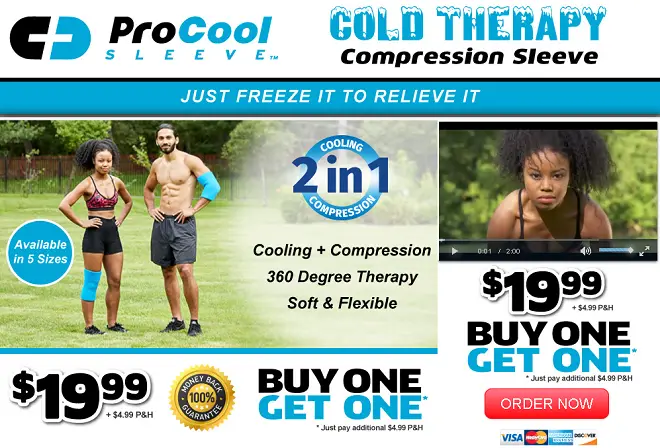 Claims & Features
360 degree compression sleeve with cold therapy
Flexible and comfortable when frozen (orthopedic cooling gel)
Simply freeze the sleeve and then put it on
Retain full mobility
Insulates skin from extreme temperatures
Ideal for knees, elbows, ankles, calves, forearms, etc.
Good for arthritis, tendinitis, joints, bruises, strains, and sprains
Can be used by people of any age
Will not leak
Safe, reusable, and free of latex
Cost
There is a mandatory double offer when purchasing ProCool Sleeve. The cost is $19.99 + $4.99 P&H + $4.99 double offer fee for a total of $29.97. There is a sizing chart on the website that shows which sizes fit various parts of the body. Available sizes include: small (8″-11″), medium (11″-14″), large (14″-17″), x-large (17″-21″), and xx-large (21″-25″). At the time of this writing, ProCool Sleeve is not available in stores.
Sponsored Links
ProCool Sleeve Review
It was only a few years ago that compression sleeves became a hot commodity, not only in the As Seen on TV genre, but also in the sports industry, where they have since become commonplace. Numerous companies jumped on the bandwagon, each attempting to sway the consumer with fancy fabric names and celebrity endorsements. ProCool Sleeve, however, doesn't rely on high-tech fabric or endorsements, but rather a simple design using a gel that is cooled in the freezer.
To use ProCool Sleeve, you simply pop it in the freezer and wait until your next use. The gel doesn't freeze hard, and provides a "cold compress" to your knee, elbow, or even ankles. It is, in short, a gel-filled compression sleeve. The sleeve itself is insulated, so you won't have the sensation of ice directly on the skin, but more akin to something like Icy Hot – without the odor. Because it is a compression sleeve, it will stay in place, keeping the cold held against the targeted area.
As a compression sleeve, ProCool Sleeve supports the joints to help prevent movements that could cause pain, especially with high repetition.
If you've ever used a gel-filled sleeve (and there are others out there, discussed below), you should have a good idea how this will work. There are a few caveats, however. The first being that there are five sizes, and you'll want to measure carefully when choosing your size. The best way to clean it is to wipe it down with water.
Keep in mind that any device that is designed to deliver cold to an affected area is not addressing any underlying problem. Your body sends pain signals as a warning, and you may want to have knee or elbow pain investigated by a physician before simply "pushing through" it.
ProCool is still a relatively new item, based on its July 2017 website registration date. If I get any additional information about the product, I'll update this space.
Alternatives
You can find several gel-filled sleeves on the market. This Pro-Tec model, for example, costs about $30-$50 and holds a solid 4.1 star rating among hundreds of consumers.
Your ProCool Sleeve Reviews
What are your thoughts about ProCool Sleeve? Drop a comment below and a star rating above to let us know what you think about it.