If you find yourself constantly flipping your pillow around to find the "cool" side, the makers of "Chillow" have an offer for you. Chillow is a pillow insert that is specifically designed to keep the consumer cool throughout the night.
Sponsored Links
About Chillow
Chillow is a pillow insert which is filled with water and can be placed in the fridge to cool further. It is not intended to be placed in the freezer and it is not actually a pillow.
Although the As Seen on TV Chillow has been advertising in recent years, it is licensed from the original Chillow, which has been around for many years. The information below is related to the As Seen on TV version of the product.
Online reviews have focused on certain pros and cons of Chillow. Positive reviews note that it does stay cool, and requires little preparation to begin using it. Those who are unsatisfied with Chillow have stated that it leaked, became warm throughout the night, or was difficult to keep in place within the pillow case.
Sponsored Links
Another feature, with is neither positive or negative, is that several consumers have expressed surprise at the weight of Chillow.
Official Website
chillow.com
Registered May 21, 1998
Contact
877-368-3280
Customer service hours: Mon – Fri 5am – 5pm Pacific Time
Claims/Features
Does not get hot quickly like regular pillows
Keeps you cool for hours
Fits inside pillow case, or can be slept on directly
Increases comfort
Can be used as a cool compress
Cost
$12.99 + $6.95 shipping = $19.94.
A second can be purchased for another $6.95 shipping.
$10 extra when shipped outside of the continental U.S.
In stores, Chillow costs about $10-$15
30 day money back guarantee, less shipping
2 – 6 week expected delivery time
Screenshot
Below is a screen capture of the Chillow website in January 2015.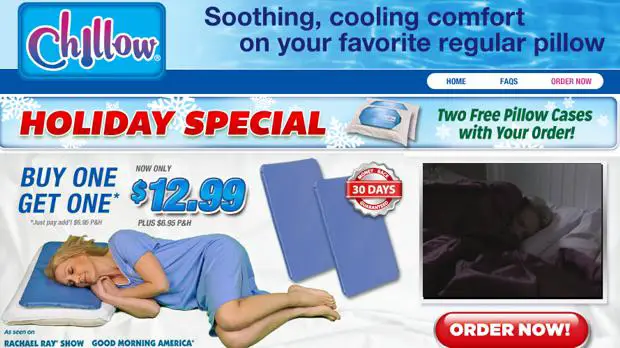 Television Commercial
This is the current Chillow TV advertisement.
Chillow Reviews
Have you tried either version of Chillow? Give it a star rating above and a comment below.
First published: August 2013
Modified: January 9, 2015