Purest Pour is a water pitcher which removes lead and other contaminates from drinking water. Does it work? Read our Purest Pour review.
Sponsored Links
About Purest Pour
Purest Pour is a pitcher that includes a four-stage filter to purify drinking water. The official product website is purestpour.com, with a registration date of July 2016. Below is a screen shot of the official website taken in November 2016.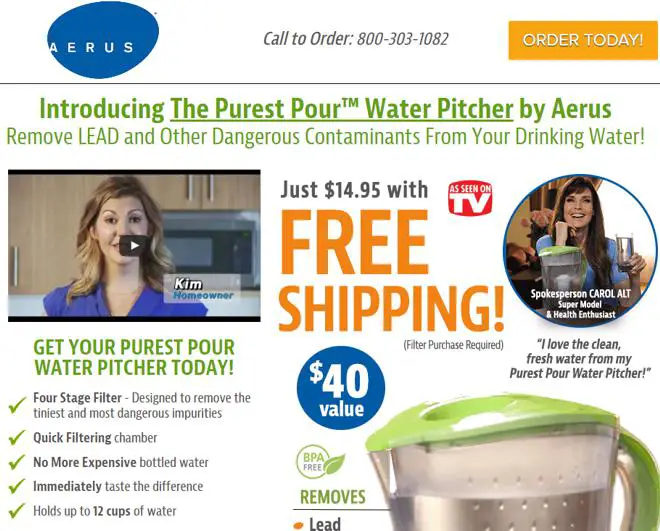 Claims & Features
Four-stage water filter
Removes the smallest and most dangerous impurities
Immediately taste the difference
Holds up to 12 cups of water
Removes lead, mercury, cadmium, bad tastes, and odors
Meets FDA and NSF definition for purified water
Cost
If you sign up for the Discount Filter Program, you can get Purest Pour for $14.95 with free shipping. If you just want the pitcher, it will cost $39.99 + $9.95 shipping.
The Discount Filter Program costs $36.90 every two months.
Sponsored Links
Purest Pour Review
Purest Pour is a water pitcher that purifies and improves the taste of drinking water. It offers a four stage filter that is said to remove the most common impurities and causes of bad taste, including lead, mercury, and bacteria.
To use Purest Pour, you simply fill the pitcher with tap water and then pour as needed. Water seeps through the filter, which removes most impurities. You'll notice a marked improvement in taste over water straight out of the tap. There is an indicator that will tell you when it's time to change filters.
If lead is of a concern to you, Purest Pour should probably make it to your short list of options, as it removes lead from water unlike some popular competitors.
Water purification pitchers are something of a double-edge sword. While they do allow you to conveniently produce pure, good tasting water, they also add a recurring monthly expense in the form of filters. In the case of Purest Pour, there is a discount to order the pitcher if you sign up for their recurring filter program, which costs $36.90 every two months.
We're sure that the majority of customers who purchase Purest Pour will be satisfied with the product. It offers a robust set of features, and two different purchase options (with and without automatic filter delivery).
Can Purest Pour stand out among a rather crowded field of water purifying pitchers? That remains to be seen.
Alternatives
There is a rather large field of water pitcher purifiers on the market, ranging anywhere in price from about $20 to $100 or more.
The Brita 10 Cup Everyday Water Pitcher is a popular option, at around $21 and a 4.4 star rating from over 3,600 reviews.
For about the same price, you can go the alkaline rout and pick up The Alkaline Water Pitcher by Lake Industries.
If the price of filters concerns you, Aquagear offers a similar pitcher which is more expensive upfront, but uses filters that last 3-4 times longer than most competitors.
Regardless which option you choose, you'll be looking at regular filter replacement costs.
Television Commercial
Your Purest Pour Reviews
Have you used Purest Pour? Give us your thoughts by leaving a comment below and a star rating above.