Purple Pillow is an innovative pillow that is gentle on the spine while supporting the head and neck. Does it really work? Here is my Purple Pillow review.
Sponsored Links
Where to Purchase
Purple Pillow costs $99-$109 and can be found on Amazon (link) or the purple.com website. Shipping is free. My actual price was about $107 with tax.
About Purple Pillow
Purple Pillow is a pillow made of hyper-elastic polymer that provides support yet never loses its shape. The official product website is purple.com/pillow, which was registered in August 1994. The screenshot below shows how the product website looked in January 2018.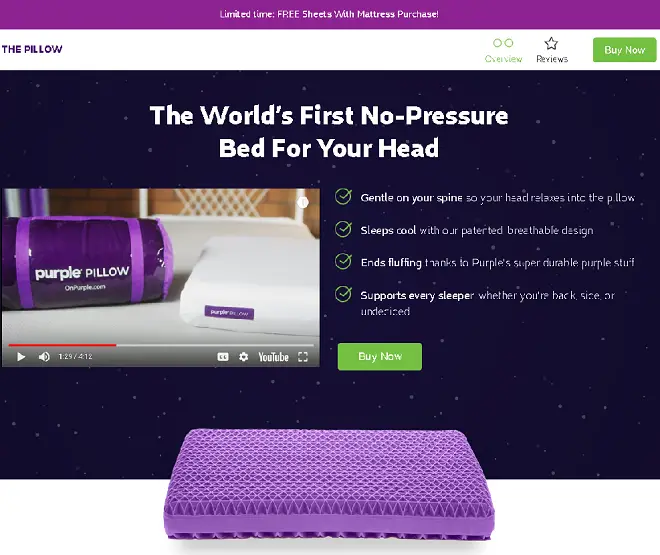 Claims & Features
Easy on the spine (cradles the neck)
Breathable design keeps pillow cool
No fluffing required (made from durable hyper-elastic polymer)
Works with any sleeping position
Simple to wash (wash in warm water and air dry)
Purple Pillow Review
Although I had seen a few "Purple" ads on the internet, it was from numerous requests on my YouTube channel that I decided to take a closer look at the entire line of Purple products. With a mattress that costs about $1000, I figured I should start with a less expensive offering, so I opted for the Purple Pillow. This is a 10-pound behemoth that costs $99. It is advertised as a revolutionary pillow unlike any others out there. I will say that it is definitely unique, but is it any good – and is it worth a C-note?
In addition to its hefty weight, the Purple Pillow is pretty sizable at 24″ wide by 16″ deep by 3″ thick. It's the thickness (or lack thereof) that seems problematic for some people. To me, it isn't the thickness that is the problem, but the firmness, which is a bit firmer than I like. I'm not sure it's too firm to use, but it doesn't compress as much as most pillows I've used. That seems to work when you place only your head on the pillow, but not your shoulders. If you place your head and shoulders on the pillow – it seems to lack support for the neck. Thus, I've found that placing only my head on the pillow (for both side and back sleeping) is the optimal way to use Purple Pillow, although that means sleeping a little farther down on the bed than I usually do.
There used to be an inflatable booster included with Purple Pillow, which many consumers said did more harm than good. That has since been replaced by two foam boosters measuring 1″ and 0.5″ thick. You can attach one or both of these to add a little extra height to your Purple Pillow if you feel it is too thin. I still think some consumers will still feel it's too thin, even with an extra 1.5″ from the boosters. In my case, I prefer the thickness without the boosters.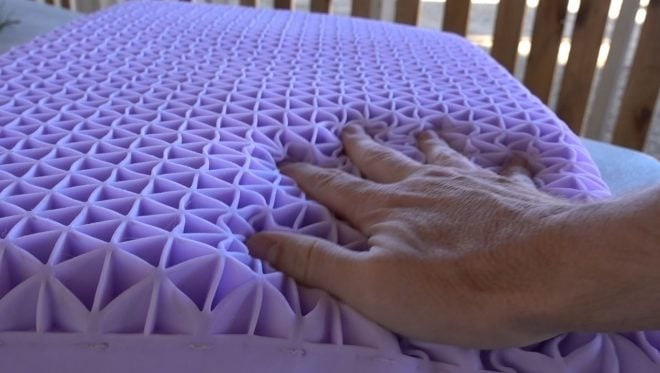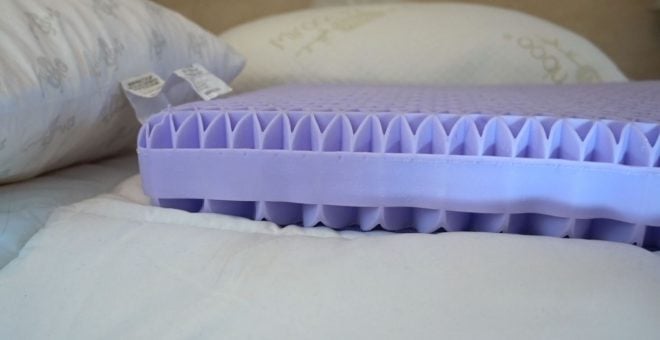 When I first tried out Purple Pillow, there was a smell so strong that I had to take it outside. A rep from the company suggested I wash the pillowcase and rinse the pillow with warm water and mild detergent, which I did. I also let it air outside several times, and it eventually took about a week for the smell to completely dissipate. To their credit, the company offered to send me a new pillow if I couldn't get the smell out.
Purple Pillow comes with a stretchy pillowcase, which you'll probably want to wash immediately. Because it's stretchy, I've found that it quite easy to get the Purple Pillow in or out of the case. The pillowcase also makes it feel more "pillow-like" because when it's not in the case, Purple Pillow has a rubbery and almost flesh-like feel to it.
Sponsored Links
Prior to receiving the Purple Pillow, I watched numerous YouTube videos about it and found several people discussing a "mysterious" white powder on the pillow. The company has already addressed the white powder issue, noting that it is nontoxic polyethylene. This powder is used to keep the product from sticking when compressed. I found a barely detectable amount in the pillow I received and most of that seemed to wash off when I rinsed it to get rid of the smell. I believe the white powder is a non-issue.
Below is a list of pros and cons I've compiled while using Purple Pillow.
Pros
Stays cool. Although you can't turn the Purple Pillow over (because only one side is usable), that isn't even necessary because the material stays quite cool and takes a long time to warm up.
No fluffing. Due to its rubbery material, no fluffing is ever necessary because it always retains its shape.
Well made. When handling this item, it feels durable and well-made. It is 10 pounds after all!
Customer Service. As noted above, customer service was responsive to my questions and offered to send me a new item if I wasn't satisfied.
100 Day Trial + Free Shipping. If you are on the fence, the company gives you 100 days to try it out and also offers free shipping, which makes it a pretty safe investment.
No Shifting. Due to its weight, you won't find Purple Pillow shifting at night, even if you toss and turn.
Cons
Price. It's $100, which I think will discourage a lot of people from trying it, even with their 100-day trial and free shipping. Many comments on my YouTube channel seem to support that suspicion.
Flat/Firm. Purple Pillow is flat and firm, a combination that not everyone will like. I like flat and soft, but I'm getting used to the firmness of Purple Pillow. Even with the boosters, I think it will be too flat for some people. One commenter suggested putting it on top of another thin pillow to boost it to the desired thickness.
Smell. As noted above, some consumers (like me) have complained of a strong chemical smell out of the box. It does dissipate, but it's not a good introduction to an expensive pillow.
No Contour. The flatness of Purple Pillow means there is no contour, which could be uncomfortable if you sleep with your head and shoulders on the pillow.
Heavy. Not everyone would relish the idea of a 10-pound pillow. My mother in her 70s said the weight alone would discourage her from buying it.
Be sure to watch my video of the Purple Pillow below, and you may also want to peruse some of the Amazon comments on the product as well. Keep in mind that many of the negative comments on Amazon are related to the inflatable booster which has since been replaced by foam boosters.
2020 Update: I wanted to point out that the pillow has held up after two years of daily use. It seems no worse for wear after 700+ uses, although the case itself did not hold up as well and became discolored over time. In late 2019 I switched to a Beautyrest pillow (similar to this model), but still occasionally use my Purple Pillow.
Alternatives
There is nothing like the Purple Pillow, but if you're shopping for a new pillow, you may want to consider a highly-rated memory foam pillow, or a goose down (alternative) pillow which is still hard to beat.
Below is my full review of the Purple Pillow over about a 7-day period and then a followup after 10 weeks.
Here is a comparison of two other memory foam pillows, including the Beautyrest which I currently use.
Your Purple Pillow Reviews
Have you used Purple Pillow or something like it? Tell me what you think in the comments below!