Purrfect Arch is a cat groomer that brushes cats while they play.
Sponsored Links
Official Website
The official website is purrfectarch.com, registered June 10, 2013.
Sponsored Links
Contact
Phone: 855-836-8444
Address: P.O. Box 3179, Wallingford, CT 06494
M-F 8am – 10pm EST
Claims/Features
Brushes while cats play
Bristles designed to gently remove loose, shedding hair
Collects loose fur
Catnip base
Massager and back scratcher
Rubberized feet
Veterinarian approved
Cost
$19.95 plus $7.95 P&H = $27.90. Includes 2 Purrfect Arch groomers and 2 bags of catnip. No extra shipping for second unit.
Screenshot
Below is a screen shot of the official website, taken in October 2013.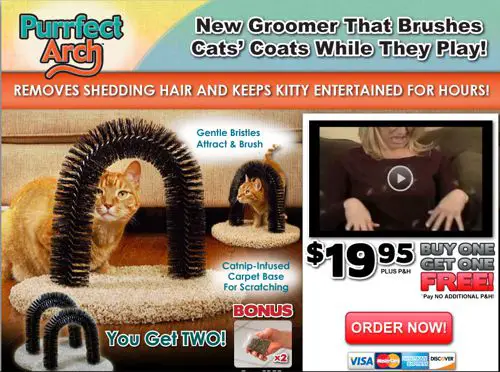 Television Commercial
Below is a television commercial for Purrfect Arch:
Purrfect Arch Reviews
Have you tried Purrfect Arch? Please give us your review in the comments below and give it a star rating above.