Purrfect Pouch is an over-the-shoulder cat carrier and grooming tote made of durable canvas. Does it work as advertised? Here is our Purrfect Pouch review.
Sponsored Links
About Purrfect Pouch
Purrfect Pouch is a cat carrier and grooming sack which features front paw openings and a fully adjustable collar. The official website is buypurrfectpouch.com, with a registration date of July 2015. The screen capture below was taken of the product website in June 2017.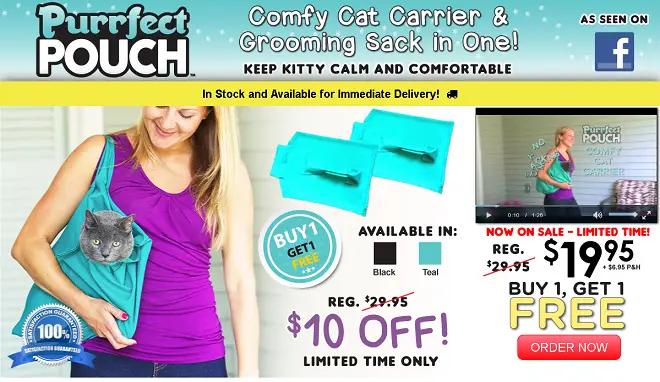 Claims & Features
Combined cat carrier & grooming sack
Ideal for transportation, administering medication, bathing, & nail trimming
Manufactured from sturdy rip stop canvas
Make carrying simple with the should strap
One size fits all adjustable collar
Front paw openings for nail clipping
Can be folded for storage
Washing machine compatible
Also usable with small dogs
Cost
A mandatory double offer for Purrfect Pouch costs $19.95 + $6.95 P&H for a total $27.90. There is also an optional deluxe double offer which costs $24.95 + $5.00 for double offer + $6.95 P&H for a total of $37.90. The deluxe version features stronger fabric (600D Oxford Polyester) and an extended warranty. Available colors include teal or black. At the time of this writing, Purrfect Pouch is not available in stores.
Sponsored Links
Purrfect Pouch Review
Purrfect Pouch is a cat carrying bag that doubles as a cat grooming sack. To use Purrfect Pouch, you unzip the bottom and place the top opening around your cat's neck. You then zip up the bottom and, if necessary, adjust a strap loosely around your feline's neck. There is an opening in which front claws can protrude, allowing for easy grooming while the cat is somewhat restrained in this apparatus. A shoulder strap will allow you to tote your cat around while in this product. The fabric is designed to withstand a kitty's claws, so you shouldn't have to worry about your cat tearing it to shreds.
The two primary questions asked about Purrfect Pouch are whether cats will actually enjoy being in this sack, and how possible it is to groom the back claws. Regarding the first question, there is no definitive answer, as each cat is different. Some cats like being stowed away, while others will find it a stressful ordeal. If you've attempted to put your cat in a similar bag, you should have a pretty good idea whether or not this will go over well. If you haven't tried it, you may want to put your cat in something similar as a test run before ordering.
Regarding the question as to how you can access the back claws for grooming, the bottom does feature a zipper, so you could probably open it slightly to reach in and grab a back claw for trimming. It's not as elegant as the front paws, but it should be possible.
Overall, like most cat products, Purrfect Pouch will find a welcomed place among some cat owners. How much your cat likes or dislikes being wrapped up in a bag will determine how successful this product is. As I suggested earlier, a test run in a similar device (such as an old canvas bag you may have around the house) may be your best way to figure out if this product is a good match for your cat.
Alternatives
There is certainly no shortage of cat grooming sacks on the market. Cat-in-the-Bag Cozy Comfort Carrier is a nearly identical product on Amazon, with an above average 3.7 star rating, although you may want to peruse comments about that item as they could relate to Purrfect Pouch.
Your Purrfect Pouch Reviews
What are your thoughts about Purrfect Pouch? Drop a comment below and a star rating above to let us know what you think about it.