Qriket is an app which rewards real money. Read our Qriket review from editors and users.
Sponsored Links
About Qriket
Qriket is free mobile app which lets its users spin the "Qriket Wheel" for a 50/50 chance to win 5 cents up to $500.
The product website is qriket.com, which was registered in December 2015. The screen capture below shows the official website in December 2015.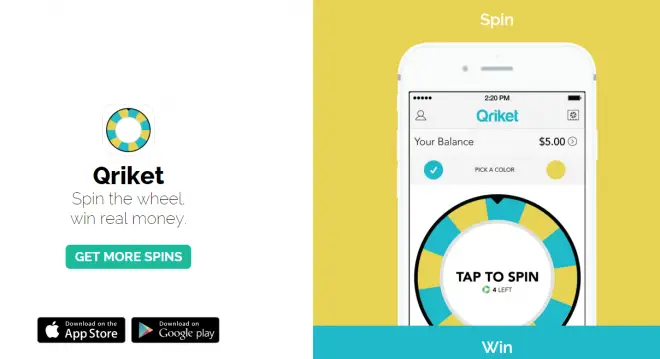 Sponsored Links
What They Claim
Win real money quickly
Completely free
Instantly collect and redeem spins
1 in 4 chance of winning your purchase amount back instantly
Tagline: "Spin. Win. Spend."
Qriket Cost
Qriket is free to use.
Reviews
Qriket is an app for iOS and Android which allows you to spin a wheel to win cash prizes. The signup process can be done via Facebook or using an email address. Once you're in, you are met with a screen showing you that you have no spins left. You can get more spins by sharing your story, referring friends, etc. There are also some stores around the U.S. which also print spin codes on their receipts, which can be found on the qriket website. Typically you can earn 1 free spin by watching about 25 seconds of video.
When you spin, you are show the "amount to win" as the wheel spins. You are then shown if you've won that amount or not. You get to pick between colors and if the wheel lands on your color, you win. Many users on the iTunes store have suggested that the results are not as 50/50 as it may seem.
Once you have accumulated enough money, you can be paid out via PayPal. The minimum used to be $5 which has since been raised to $25. It may take some time to accumulate this much, however. In our tests of the game, we tried it for about 20 spins and won a total of 10 cents.
Qriket is fun to play, but don't count on it as a way to supplement your income. Winning spins are much more rare than one might imagine. While it is simple to play, earning more spins is the most difficult part of playing the game, as eventually watching videos becomes boring.
The app currently holds a 4 star rating on the Google Play store and 4.5 stars on iTunes.
Your Qriket Reviews
Let us know what you think of Qriket by leaving a comment below and a star rating above.