Quick Dry Brush is a hair brush that can also dry your hair up to 50% faster. Does it work? Read our Quick Dry Brush review.
Sponsored Links
About Quick Dry Brush
Quick Dry Brush is a product that helps dry your hair while brushing. The product website is buyquickdrybrush.com, which was registered in November 2016. The screen shot below shows how the product website appeared in December 2016.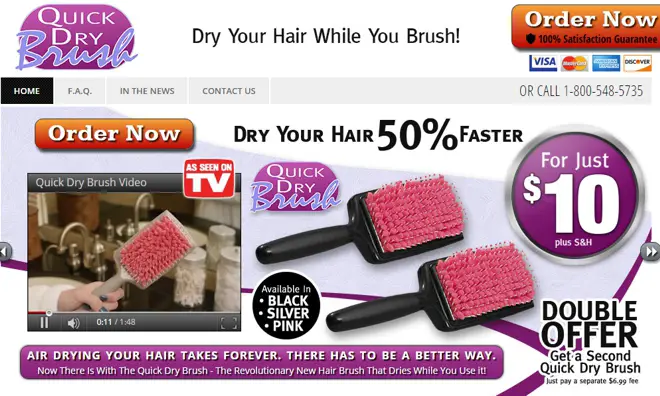 Claims & Features
Dries hair as you brush
Uses absorbent microfibers and flexible bristles
Eliminates frizz
Works with all hair types
Available in black, silver, or pink
Cost
You can get one Quick Dry Brush for $10 + $6.99 shipping, or you can add a second unit for another $6.99 fee. This brings your total to $16.99 for one, or $23.98 for two.
Sponsored Links
Quick Dry Brush Review
We have seen a number of hybrid hair products in recent months that attempt to tackle two tasks at once, such as straightening and drying, straightening and brushing, or brushing and drying – as is the case with Quick Dry Brush.
Although many of the other hybrid hair products we've seen lately have offered high-tech gadgetry, Quick Dry Brush doesn't go that route. Instead, it simply embeds microfibers into a hair brush so you get many of the same benefits of a microfiber towel while brushing your hair.
As your brush your hair, the embedded microfiber material runs along the strands, absorbing moisture. The end result is a faster drying experience than if were to towel dry first and then brush.
While it's difficult to say this brush actually dries your hair, it does remove moisture. When you are done brushing your hair with Quick Dry Brush, it will probably still be damp, but probably not as damp as if you had not used it.
The embedded microfibers make the brushing process more gentle on your hair than most standard bristle brushes, which could help reduce frizz and damage.
The length and thickness of your hair will probably affect how satisfied you are with Quick Dry Brush, but we think the majority of users will actually find that it speeds up the drying time. Between that and the gentle nature of the bristles, we think Quick Dry Brush is a worthy investment to most consumers.
Based on its November 2016 website registration date, it would appear that Quick Dry Brush is a very new item. It has been our experience that items this new often go into back order status rather quickly. While we can't say for sure that will happen here, it may be good to keep that in mind when ordering and awaiting your delivery.
Alternatives
As revolutionary as Quick Dry Brush seems, its design is actually found in a number of other microfiber hair brushes. Perhaps the original (or at least the most popular) brush in this category is the Goody Quick Style Paddle brush, which has over 200 consumer reviews and a solid 3.5 star rating.
You may also be able to find similar brushes in local beauty stores, or even department stores such as Target.
Your Quick Dry Brush Reviews
If you've used Quick Dry Brush, tell us what you thought by leaving a comment below and a star rating above.