RainBrella is a glass treatment for autos that repels rain, mud, and dirt while improving visibility. Does it actually work? Read our RainBrella review.
Sponsored Links
About RainBrella
RainBrella is a glass treatment promoted under the Wipe New and Rust-Oleum brand names. The official product website is wipenew.com, which was registered in February 2012. The domain rainbrella.com has also been used in advertising, although that URL currently forwards to wipenew.com The screen shot below was taken of the product website in January 2017.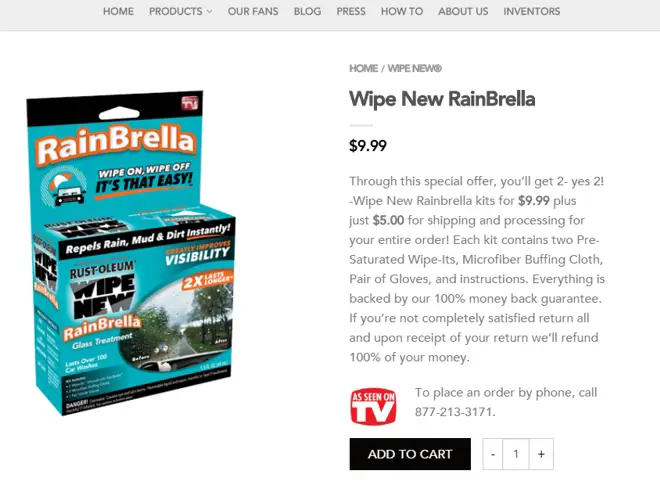 Claims & Features
Works to repel rain, dirt, or mud
Improves visibility
Haze-free formula
Wipe-on application
Protects through 100 car washes
Lasts twice as long as Rain X
Cost
You can get RainBrella for $9.99 + $5 shipping, for a total cost of $14.99. In February 2017 I found Rainbrella at a local KMart for about $7.
RainBrella Review
RainBrella (marketed as "Wipe New RainBrella") is advertised as an "umbrella" for your car, as it supposedly repels water and mud from your windshield. It is applied by simply wiping it on, then wiping it off.
The package contains two one-time use wipes. The fact that it comes in disposable wipes is probably a feature that will divide consumers regarding the usefulness of RainBrella. The convenient pouches are a great way to store these for when you need them, especially if you're on the road. They also allow you to easily apply the product without the need to use a towel.
There are those, however, that may feel that the amount of ingredients they get for the price may not seem appropriate. Those are the consumers who may not feel that RainBrella is a good fit for them.
Whether or not two disposable pouches for $7-$15 are a better deal than a $5 bottle of Rain-X is where some consumers will probably split on this product, even if RainBrella were to last longer.
Sponsored Links
I found the smell when opening the package to be quite harsh, almost reminiscent of a strong tequila odor, only not as pleasant. The instructions do state to apply RainBrella in an area with good ventilation, and I can see why.
There is a pair of blue plastic gloves you are to use when handling Rainbrella, as well as a microfiber cloth used to wipe off the windshield. The instructions state to apply RainBrella to the windshield, wait 5 minutes, wipe off with the cloth, wait 10 minutes, and repeat the process a second time – using the same pad you used for the first coat.
I found that RainBrella does repel water and dirt pretty well, especially at first. I'm not sure it lasts as long as the advertising states, at least in the dry climate of Las Vegas. As you can see in the video below, when a rain storm hit my area 44 days after applying RainBrella, it was difficult to see if there was any benefit. I would have thought that a product advertised to last 100 washes should have worked longer than 44 days. That said, perhaps sitting in the dry warm air of Southern Nevada shortened the amount of time that it works.
While it worked, it worked well.
RainBrella should work as well or better than similar glass treatments, although you will only get two uses out of the box. I don't know if the difference over the competition is as stark as the advertising seems to imply, but it does work pretty well.
The ingredients of RainBrella include isopropyl alcohol, methyl ethyl ketone, and inorganic acids.
Alternatives
RainBrella is clearly aimed at competing against Rain-X, which is a popular glass treatment product that can be found online and in stores for about $5. The Rain-X Water Repellent Wipes are perhaps the closest I found to RainBrella, and can be found for about $5 each.
Video Review
You can see my full review of RainBrella below.
Television Commercial
Your RainBrella Reviews
Have you used RainBrella? Let us know what you think by leaving a comment below and a star rating above.
Updated February 2017 to indicate in-store availability.