Rapid Ramen is an As Seen on TV product which promises to solve the problem of the hassle of making ramen the old fashioned way. Here are Rapid Ramen reviews from our staff and readers.
Sponsored Links
About Rapid Ramen
Rapid Ramen Cooker tells you what the product is in the name; it cooks Ramen noodles in just three minutes by just simply adding water . This BPA, reusable product is aimed to cut down the time of using your home oven because the product requires no pots or pans.
Rapid Ramen claims and features
The product claims to not only cook Ramen noodles, but can also cook various canned soups, chili, spaghetti and more. It is also convenient for the consumer who is on the go, or even in setting such as work on a quick lunch break.
How much does Rapid Ramen cost?
The cost is $10.00 plus $4.95 process and handling ($14.95). However, if you buy two Rapid Ramen Cookers you get two free. Your first two is $14.95 including processing and handling and the two free Rapid Ramen Cookers is an additional $4.95 processing and handling. Keep in mind that processing and handling is not refundable.
Is it available in stores? Yes, you can find Rapid Ramen in stores such as Walmart or Bed Bath and Beyond.
Sponsored Links
Products Similar to Rapid Ramen
Perhaps the product closes to this would be "Cup of Noodles," which allows the consumer to microwave ramen noodles directly in the packaging. The advantage of Rapid Ramen over Cup of Noodles is that it allows the use of cheaper ramen packages, and is reusable.
There are mostly high ratings for Rapid Ramen on Amazon, but a few consumers have stated that the product barely could make one serving; some believed it should be bigger.
The product's official website is rapidramen.com which was created back in December 2011.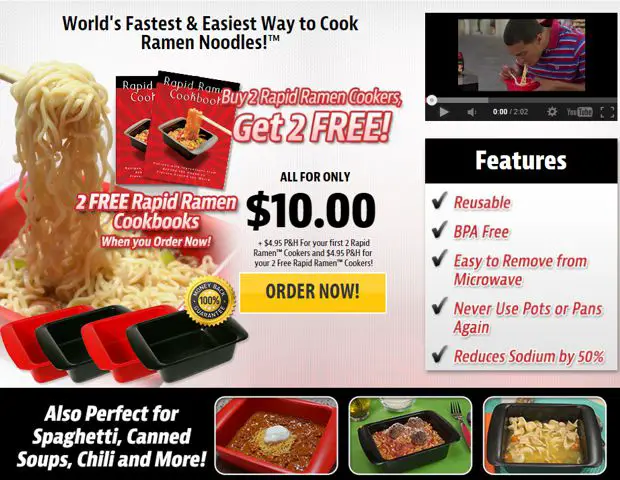 Television Commercial
Below is a television commercial for Rapid Ramen.
Rapid Ramen Reviews
Have you tried Rapid Ramen? Please give us your review in the comments below and give it a star rating above.