Recline Easy is a recliner handle extension which allows for easier operation of your favorite recliner.
Sponsored Links
About Recline Easy
Recline Easy is a handle attachment that allows your recliner to be operated more easily than with the built-in handle. The product website is reclineeasy.com, which was registered in January 2016. The screen capture below shows the official website in February 2016.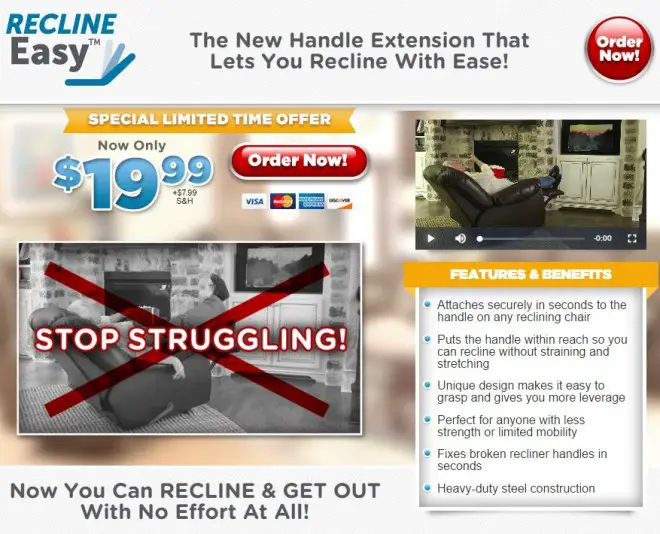 Sponsored Links
What They Claim
Attaches quickly to the handle of any recliner
Handle extension lets you recline with ease
Easy to grasp, provides leverage
Ideal for those with reduced strength or decreased mobility
Can replace broken recliner handles
Heavy duty steel
Recline Easy Cost
Recline Easy costs $19.99 plus $7.99 shipping for a total of $27.98. A "Recline Easy" can be added for another $7.99 for a total cost of $35.97.
Reviews
Recline Easy is featured in a typical As Seen on TV commercial with an exaggerated depiction of people struggling with standard recliners, then effortlessly performing the same tasks with this product. While this may be a cartoonish depiction, operation with a handle extension such as this may actually be beneficial to some consumers.
At its core, Recline Easy is simply a recliner handle extension, which allows you to more easily grasp and operate a recliner. The device is attached to a standard recliner handle by means of screws which allow you to tighten it to fit. Although some customers may balk at the idea of having to manually secure such a device, this actually allows for a more proper and sturdy fit.
Its simplistic design means that there is little that can go wrong. Recline Easy simply adds more leverage and an easier reach to your recliner handle. If you have struggled with the handle on your favorite recliner, this could be a good product for you.
Based on its recent domain registration and limited advertising, Recline Easy appears to be a new product with only a small advertising campaign thus far.
Your Recline Easy Reviews
Have you used Recline Easy? Give us your review by leaving a comment below and a star rating above.