Red Copper 5 Minute Chef is a nonstick cooker that prepares food in minutes. Does it work as advertised? Here is our Red Copper 5 Minute Chef review.
Sponsored Links
About Red Copper 5 Minute Chef
Red Copper 5 Minute Chef is a lidded cooker with two deep wells that feature nonstick coating and anti-scratch technology. The official website is buy5minutechef.com, with a registration date of May 2017. The screen capture below was taken of the product website in July 2017.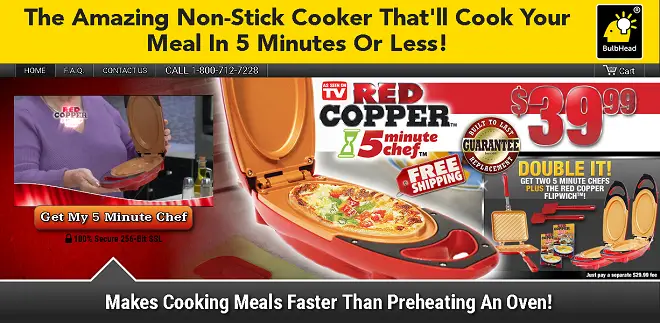 Claims & Features
Evenly cooks food (does not require flipping)
Copper infused
Coated with nonstick ceramic
Scratch resistant
Cost
Red Copper 5 Minute Chef costs $39.99. It comes with a spatula and recipe guide. There is an optional double offer which costs $69.98 for two units, a spatula, recipe guide, and a Red Copper Flipwich. In addition to these two offers, there are two deluxe offers which feature a double coating of the nonstick ceramic coating. The single deluxe offers costs $49.98 and comes with the spatula and recipe guide. The double deluxe offers costs $89.96 and comes with spatula, recipe guide, and Red Copper Flipwich. Shipping is free on all offers.
I picked up Red Copper 5 Minute Chef at a local Kmart here in Las Vegas for $40 in October 2017.
Red Copper 5 Minute Chef Review
Cathy Mitchell is back, pitching another As Seen on TV kitchen device, this time known as the Red Copper 5 Minute Chef. This is an electric cooker that heats food from the top and bottom, thus preparing meals in half the time.
To use the 5 Minute Chef, you simply put your ingredients in the oval "well" as they call it, and close the lid. Your food will cook on both sides at once, and can be easily lifted out when it's done – thanks to the nonstick coating. Basically, it's a like small oval George Foreman grill that doesn't allow fat to drip away from the food. Another unique feature is that you can flip the entire unit over for dishes that require even cooking on both sides. The comparison to the Foreman product could be one potential drawback. For some foods where grease is not a problem, like eggs or cake, Red Copper 5 Minute Chef will perform beautifully. Cooking a hamburger or chicken breast, however, could get messy as all the grease collects inside the well alongside your burger. Plus when you flip the unit over, grease could spill out from the sides.
Sponsored Links
The other potential problem that I see for some consumers is that this item is very small. While the advertising hypes that it is "smaller than a toaster," the actual well that holds your food is about the size of the palm of an average hand. Thus, I don't see this as being used to cook meals as they state in the advertising. I'm not even sure if it's large enough to make a single side dish that would feed a small family. The chicken breast I prepared in the video below needed to be trimmed down in order to fit in the unit.
One odd feature is that there is no temperature setting, nor is there an on/off switch. As soon as you plug it in, it begins heating up.
For college students who don't have access to a full kitchen, this could be a nice addition to a microwave. For small meals to feed one person, I can also see this as having some benefit. With a $40 price tag, however, it would be hard for me to recommend this over the numerous George Foreman grills that are readily available and can prepare more food at once.
As you can see in my video below, I prepared 11 batches of food in the Red Copper 5 Minute Chef: 1 omelette, 3 cakes, 2 hamburgers, 4 sets of biscuits, and a chicken breast. Here are some of my observations from those tests. The omelette had instructions and cooked perfectly in about 3 minutes. I put two eggs in the unit and cooked 90 seconds, flipped the device, and cooked another 90 seconds. The three cakes, for which I found a recipe in the included booklet, all turned out differently. Cake #1 took 5 minutes and turned out pretty well although the outsides were slightly hard. The second cake seemed burnt on one side, which I suspect because I only let it cool for five minutes. After that I let it cool for 15 minutes before cooking cake #3, which I only put in there for four minutes and it turned out the best of the bunch.
The first hamburger I put in the 5 Minute Chef for 5 minutes, but it was still raw inside, so I cut it in half and cooked it for another two minutes. The second hamburger I tried for 8 minutes, but there was still pink in the middle, so that ended up taking over 9 minutes.
After a bit of trial and error, I was able to make 2 biscuits per batch in 3 minutes and 45 seconds (per batch of two). Finally, a chicken breast took 15 minutes, but was juicy and evenly cooked.
I feel that the $40 price tag seems a bit high for the size of this product, and it should more like $20-$25. I thought the price might be lowered during the test marketing phase, but as of this October 2017 update, it is still $40.
Red Copper Flipwich
The current TV offer includes the Red Copper Flipwich as a bonus, and you can see my full video review of that product below.
Your Red Copper 5 Minute Chef Reviews
What are your thoughts about Red Copper 5 Minute Chef? Drop a comment below and a star rating above to let us know what you think about it.
Updated October 2017.