Red Copper Flipwich Review: Flip Grill for Sandwiches and More?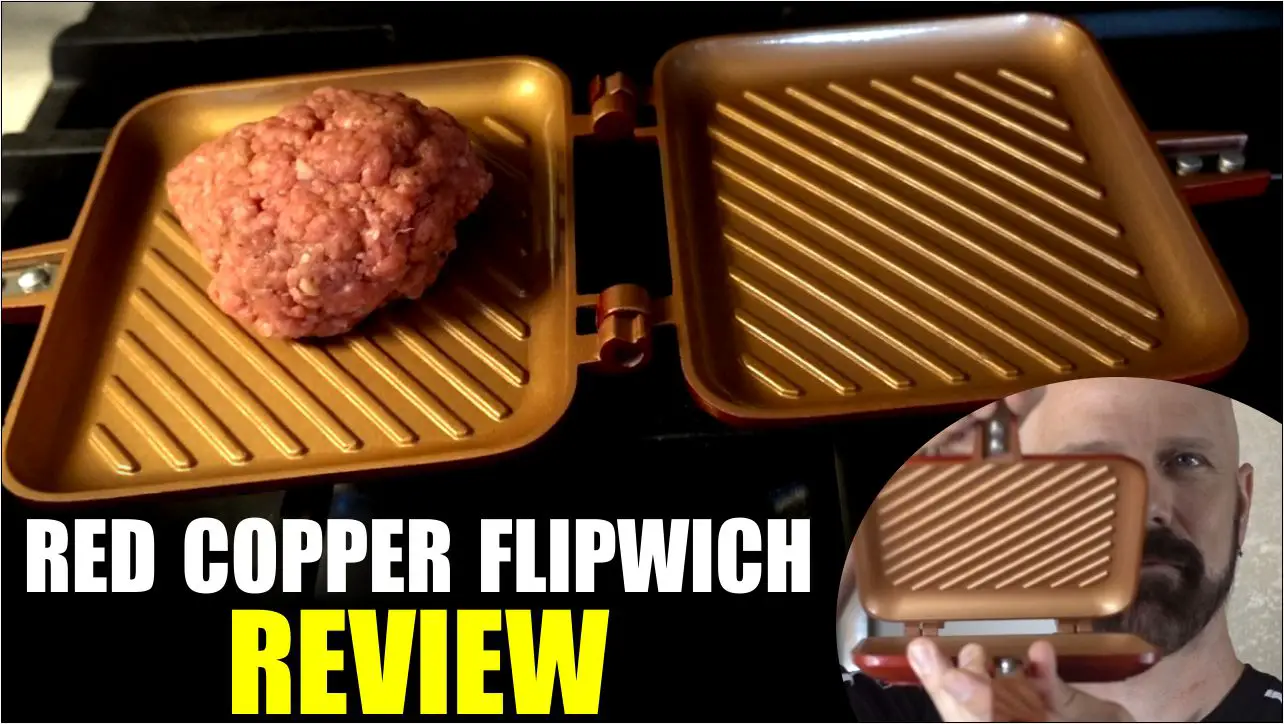 Red Copper Flipwich is a compact, double-sided, and non-stick stove top grill. Does it work? Read our Red Copper Flipwich review.
Sponsored Links
About Red Copper Flipwich
Red Copper Flipwich is a lightweight stove top grill with twin interlocking chambers. The product website is flipwich.com, which was first registered in January 2017. The screen shot below shows how the product website looked in April 2017.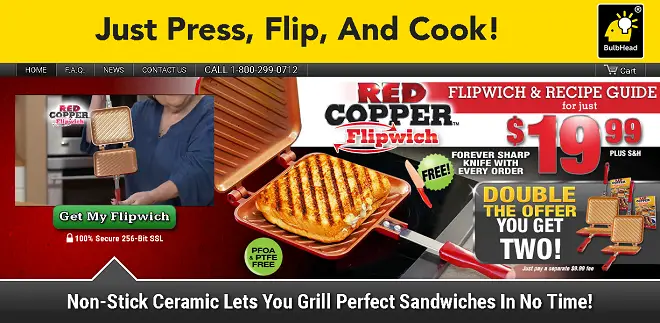 Claims & Features
Grills sandwiches and other foods
Simple to use & lightweight
Surface of non-stick copper infused ceramic
Usable on any stove top
Safe to wash in dishwasher
Cost
A single Flipwich unit costs $19.99 + $9.99 shipping for a total of $29.98. There is an optional double offer that costs $29.98 + $9.99 shipping for a total of $39.97. Both the single and double offers come with a recipe book and a Forever Sharp Copper Knife.
Two deluxe offers are also available. The standard deluxe offer costs $29.98 + $9.99 shipping for a total of $39.97. The deluxe double offer costs $49.96 + $9.99 shipping for a total of $59.95. The deluxe versions of the Flipwich also come with a recipe book, a Forever Sharp Copper Knife, and a 3 year guarantee.
I found Red Copper Flipwich at a local Target here in Las Vegas for $19.99.
Red Copper Flipwich Review
Cathy Mitchell is back with yet another As Seen on TV kitchen item, this time extolling the virtues of Red Copper Flipwich. This product is said to allow you to grill and flip sandwiches with ease. The secret to Red Copper Flipwich is its dual-pan and handle design. It is essentially two small square griddles attached with a hinge.
To use Red Copper Flipwich, you simply place your sandwich (or other food item) in the device and place on the stove. A small clip on the handle allows you to keep the two sides tightly shut. When it is time to flip, you grab the two handles and flip the entire unit. The handles are slightly pliable, which helps to close it more easily, especially when some foods are thicker.
This is the latest in a growing line of items sold under the "Red Copper" brand. I have used several of these Red Copper items and so far my experience with them has been mostly positive.
Sponsored Links
Keep in mind that the current breed of As Seen on TV cookware is promoted for their superior nonstick surfaces, but I've found these surfaces tend to degrade rather quickly. Once that happens, you can try to salvage your investment by simply using a nonstick spray or oil. It's not an elegant solution, but at least it keeps it out of the trash. The best way that I've found to make these nonstick surfaces last is to rinse with warm water, apply dish soap, and gently wipe with a paper towel. Despite being dishwasher safe, I don't place these types of nonstick pans in the dishwasher.
From what I have seen in devices like Red Copper Flipwich, I think consumers will be generally pleased. The advertising, of course, shows the product in an ideal light. The reality may not be quite as impressive, although I still think consumers will generally like it, especially at first.
In my four tests for the video below, I found the nonstick surface to hold up well. Even burnt cheese and melted marshmallow came off surprisingly easy. A grilled cheese sandwich took about 4 minutes, and left nice grill marks. S'mores took much longer than their recipe booklet indicates, but turned out well and tasted good.
Hot dogs and a hamburger patty also grilled nicely, although the hamburger grease spilled out of the side when I attempted to flip it. I suggest flipping it over the sink, or even holding it sideways to drain the grease while flipping.
Potential problems include tall food items that may prevent the handles from locking. Very greasy or juicy food could spill if you don't flip it fast enough, as I experienced while cooking a hamburger in the unit. And, as I mentioned, the nonstick surface is sure to amaze at first, but will probably not be so impressive six months later. It's not made of the highest quality materials, and the clip on the handle has a tendency to slip out of place.
If those "cons" don't bother you, and your expectations are realistic, I think you'll like it. Overall, Red Copper Flipwich seems to pick up where its Orgreenic predecessor left off.
Alternatives
If the concept of Red Copper Flipwich seems familiar, you aren't mistaken. Several years ago the Orgreenic brand produced an item called the Flip Jack pancake maker. While that item was touted as a way to easily flip pancakes, consumers used it for other items such as quesadillas and sandwiches. Several knockoffs have since appeared, and you may want to peruse those before deciding on this product.
Video Review
Below is my full video review of Red Copper Flipwich.
Your Red Copper Flipwich Reviews
What do you think of Red Copper Flipwich? Tell us what you think by leaving a comment below and a star rating above.
Updated June 2017.