Red Copper I Love Bacon Pan is a pan designed to make crispy, straight bacon in the oven. Does it work as advertised? Here is our Red Copper I Love Bacon Pan review.
Sponsored Links
About Red Copper I Love Bacon Pan
Red Copper I Love Bacon Pan is a specially-designed pan that allows you to make crispy, flat bacon in the oven. The official website is ilovebaconpan.com, with a registration date of September 2017. The screen capture below was taken of the product website in September 2017.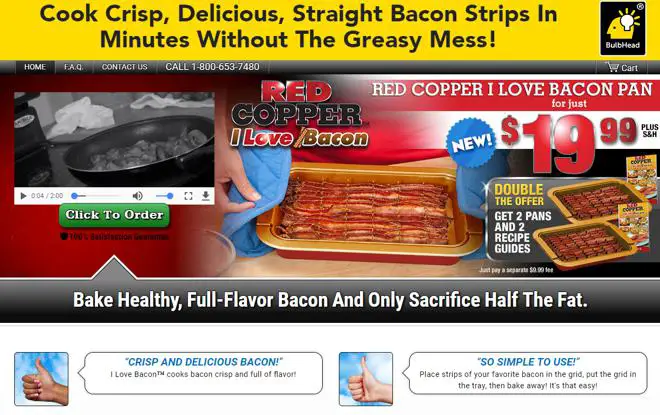 Claims & Features
Prepares bacon
Includes grid and tray system
Up to half of the fat is removed
Edges will not curl (cooks flat bacon strips)
Dishwasher safe copper infused nonstick ceramic
Cost
Red Copper I Love Bacon Pan costs $19.99 + $7.99 shipping for a total of $27.98. There is an optional double offer that costs $29.98 + $7.99 shipping for a total of $37.97. Each unit comes with a recipe guide. At the time of this writing, Red Copper I Love Bacon Pan is not available in stores.
Red Copper I Love Bacon Pan Review
When I first saw the ad for Red Copper I Love Bacon, I knew it looked very familiar because I had just posted a video review for a nearly identical product called Gotham Steel Bacon Bonanza. And this isn't the first time Gotham Steel and Red Copper have released nearly identical products at the same time. Do you recall Gotham Steel Crisper Tray and the Copper Crisper? Alas, it has become commonplace for As Seen on TV marketers to develop and market pretty much the same thing at the same time, which can be confusing to consumers.
Sponsored Links
A few more examples include Hurricane Spin Scrubber vs Turbo Scrub, Atomic Beam vs TacLight, Atomic Beam Lantern vs TacLight Lantern, Red Copper Brownie Bonanza vs Brooklyn Brownie Copper…
But I digress… Red Copper I Love Bacon works by means of a bottom nonstick tray that collects grease, and an upper tray which holds 12 pieces of bacon placed on its side. Each strip of bacon has its own slot, which is key to how this product works. As the bacon heats up in the oven, the strip will shrink and drip grease into the pan below. It shrinks in the confines of the slot in which it is placed. This keeps it from curling or sticking to other pieces.
As you can see from my video of Bacon Bonanza, these devices work pretty well. Expect it to take about 30 minutes to create a batch of crispy bacon, and you may find that the edges facing upward are slightly more cooked than those facing the bottom of the pan. Grease does drip safely away, and the final product is tasty, cooked bacon. In my tests, bacon was not as evenly cooked as it was in the Bacon Wave, although some purists felt that the very flat bacon in the Bacon Wave seemed unnatural.
Although the bottom tray is nonstick, I've found that unless you really plan to baby the pan's surface, you're still better off just putting some parchment paper or foil down to collect grease. Cleaning the tray is pretty straightforward, with some warm soapy water and a sponge being all that is required.
Although Bacon Bonanza is sold in stores, I have not seen Red Copper I Love Bacon sold locally as of this writing, which means it's probably still being test marketed. I'll update this space when that changes.
Alternatives
As noted earlier, Red Copper I Love Bacon is nearly identical to Bacon Bonanza by Gotham Steel, which you can find on Amazon and in stores such as Bed Bath & Beyond. You may also want to consider Bacon Wave, which is faster and produces more evenly cooked bacon. Not everyone likes to make bacon in the microwave, but it's a viable alternative.
Related Video Review
Below is my full video of the nearly-identical Bacon Bonanza, as I compared it to an older As Seen on TV product called Bacon Wave.
Your Red Copper I Love Bacon Pan Reviews
What are your thoughts about Red Copper I Love Bacon Pan? Drop a comment below and a star rating above to let us know what you think about it.