Red Shift XT are lightweight and resilient sunglasses that block UVA/UVB rays. Do they work? Read our Red Shift XT review.
Sponsored Links
About Red Shift XT
Red Shift XT is a pair of light, yet tough, sunglasses that block UVA/UVB rays while supposedly enhancing visual depth and clarity. The product website is redshiftxt.com, which was first registered in January 2017. The screen capture below shows the official product website in February 2017.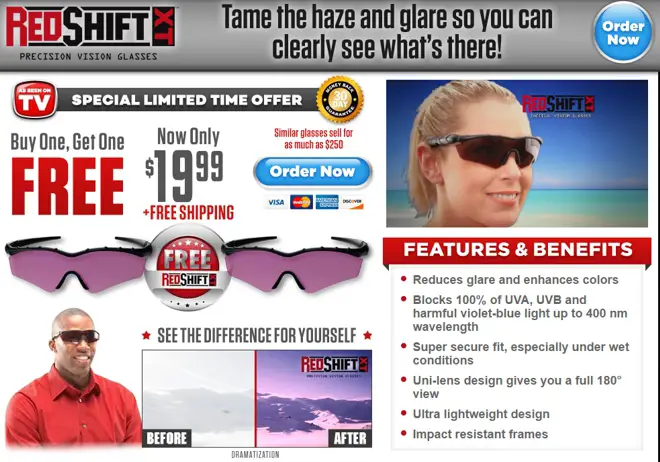 Claims & Features
Lessens glare while enhancing colors
Blocks UVA, UVB and violet-blue light up to 400 nm
Securely fits
180-degree uni-lens design
Lightweight and impact resistant
Cost
Red Shift XT costs $19.99 with free shipping for two units. There is an option to upgrade to the Deluxe model for an additional $10 per pair. I found Red Shift XT at a local Walmart for $15.
Red Shift XT Review
Red Shift XT is advertised as a pair of "tactical" sunglasses which block UV rays that provides enhanced clarity. The uni-lens design and impact resistant frames round out a product made for rigorous outdoor use.
In 2016, As Seen on TV products marketed toward the "tactical" industry included flashlights and lanterns, which are brighter and more durable than standard lights. Now we are seeing a growing category of tactical eyewear marketed toward military, hunters, and law enforcement. These items are also touted as more durable, while providing a crisp and enhanced view even in glaring light.
Red Shift XT covers all of the bases with UVA and UVB protection, along with a 180-degree field of view and impact-resistant frames. The red tint (perhaps more pink than red) is part of the design meant to increase clarity when outdoors.
Sponsored Links
I took Red Shift XT along with me on a recent trip to Huntington Beach, California. It was a 6-hour drive there (in traffic) and a little over 4 hours back, and I wore these both ways. When you first put them on, it's an almost overwhelming pink tint to the world. As your eyes adjust, however, there is increased clarity and less glare. I found these to be excellent driving glasses, but the style was too much like safety glasses for me to wear out in public.
In the video below, you'll see these compared to Tac Glasses, and I actually like these better for driving. Another odd effect is that once your eyes adjust to the pink tint, when you take them off, everything seems to be a faded blue-green hue.
Higher-end tactical eyewear can run $60 – $200, but typically sport very high consumer ratings. I've seen quite a few cheaper knockoffs (like this one) that offer many of the same features, but fail to excite consumers due to cheaper materials than found in their brand name competitors.
That said, there are those who can't justify paying $80 for a pair of sunglasses, and are perfectly happy sacrificing quality for price.
I would almost never suggest this, but in the case of Red Shift XT, I'd probably go with the upgraded Deluxe model because the complaints that you're likely to hear with the regular version are already addressed in the Deluxe model, which are more durable and include anti-fog, polarized lenses. $40 for two pair is still not bad, even for a knockoff. Better yet, head to your nearest Walmart and pick up a regular pair for $15, without worrying about shipping costs or delays.
Overall, if you go into it knowing that these are low-end tactical sunglasses, you may be pleasantly surprised. The Deluxe version already addresses complaints that I can foresee with the regular version. In short: I like the way they function, but not the way they look.
Alternatives
Red Shift XT – and many others like it – are probably best described as a knockoff of (or at least influenced by) ESS Eyewear products that are used by military, law enforcement, and hunters. The ESS Crossbow series is probably the closest you'll find in design to Red Shift XT. That item is highly rated, but carries a much higher price tag, at around $85.
Video Review
Below is my full review of Red Shift XT.
Your Red Shift XT Reviews
Tell us what you think about Red Shift XT by leaving a comment below and a star rating above.
Updated September 2017.