Red Steam Express is a compact 2-in-1 professional quality iron and clothing steamer. Does it work? Read our Red Steam Express review.
Sponsored Links
About Red Steam Express
Red Steam Express is a lightweight combination of a high quality garment steamer and an iron. The product website is redstreamexpress.com, which was first registered in January 2017. The screen shot below shows how the product website looked in April 2017.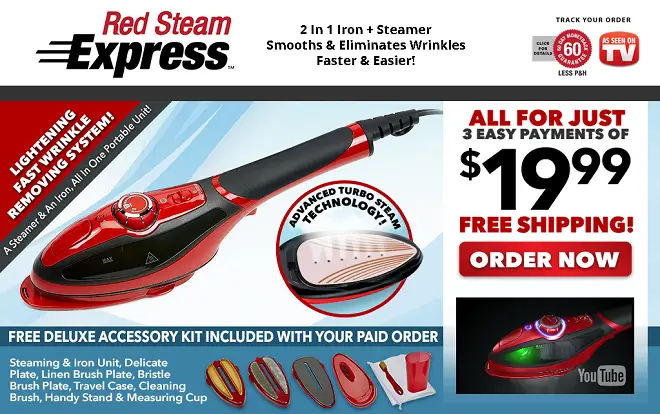 Claims & Features
Bottom plate coated in ceramic
Combines professional grade iron & steamer
Temperature controller
Weighs less than 2 lbs.
Can sanitize clothing, upholstery, & cushions
Steamer only takes about 30 seconds to heat up
Use on delicate fabrics with snap-on plate
Obtain dry cleaner results at home
Cost
Red Steam Express costs $59.97. Shipping is free. There is also an option to pay three payments of $19.99. It also comes with a travel case, three different snap-on plates (delicate, linen brush, and bristle brush), cleaning brush, handy stand, and a measuring cup.
Sponsored Links
Red Steam Express Review
Red Steam Express sounds like the name of a children's book about a red train, but of course today we are talking about a product that combines a garment steamer and an iron into a single unit.
Red Steam Express is a handheld unit that can be used as a steamer or an iron, although the advertising seems to give more time to its virtues as a steamer than as a clothing iron.
It has been my experience that hybrid appliances often fail to outperform products designed for a single use. From the design of Red Steam Express, it seems like this is more of a garment steamer than an iron. It only becomes an iron once you attach a separate plate to the unit.
As a steamer, this looks to be a top notch unit that can hang with the best of them. I'm not sure if everyone will feel that its capabilities as an iron can beat some of the higher end irons on the market (see below). The size and portability make this ideal for travel or those with extremely limited space.
Red Steam Express is shipped with an accessory kit which adds a few nice additions, such as a travel case and a couple of extra plates for various materials.
Can Red Steam Express compete with the untold number of steamers and irons already on the market? It will be interesting to see.
One odd note about the advertising is that it states "over 3 million Red Steam Express have already been sold." While I don't dispute the claim, that seems like a very high number of sales for a product that I have only heard of in 2017. Consider that the product website was first registered in January 2017, and the trademark was filed after that. Perhaps it has been sold under a different name, but it seems unfathomable that 3 million units have been sold in that short period of time. I will try to find out more about this claim and update this space when I get more info.
Red Steam Express is marketed by Tristar Products, Inc., which is one of the major players in the As Seen on TV industry.
Alternatives
Although it is difficult to find another product that combines ironing and steaming, there are of course some solid options if you choose one or the other. This mini clothing steamer, for example, is a highly rated Amazon Best Seller.
If you are primarily concerned with ironing, this Rowenta micro steam iron is one of the best you'll find for under $100.
Your Red Steam Express Reviews
What do you think of Red Steam Express? Tell us what you think by leaving a comment below and a star rating above.