RemarkaBulb is a LED light bulb that works like an ordinary light bulb, yet remains lit when the electricity goes out.  Does it really work? Here is my RemarkaBulb review.
Sponsored Links
About RemarkaBulb
RemarkaBulb is a shatterproof LED light bulb which contains a rechargeable battery that can be activated when there is a power outage. The official product website is buyremarkabulb.com, which was registered in November 2017. The screenshot below shows how the product website looked in December 2017. The domain remarkabulb.com has also been used, but it does not appear to be active as of this writing.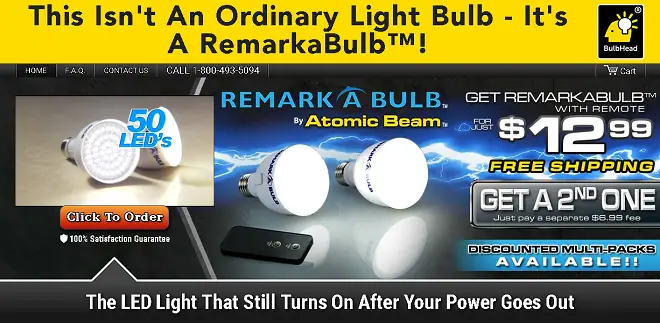 Claims & Features
Works like a normal light bulb when screwed into standard light fixtures
Contains a rechargeable lithium-ion battery that switches on when the power goes out
Shatterproof design
Bulb is made up of 50 LEDs (lights up 450 square foot area)
Pulling the slide-out handle converts the bulb into an Atomic Beam Flashlight
Cost
A single RemarkaBulb (with remote) costs $12.99. There is an optional special offer that includes two bulbs and a remote control for $19.98. In addition, there is a Multi-pack discount offer that includes 4 lights bulbs and two remote controls for $36.96. Shipping is free on all offers. At the time of this writing, RemarkaBulb is not available in stores.
RemarkaBulb Review
Remarkabulb is a rechargeable light bulb that can be used when the power goes out. If you lose power, you simply press a button on the included remote, and Remarkabulb will switch over to its lithium-ion battery.
Sponsored Links
To use Remarkabulb, you simply screw it into any standard light socket and it will function as an ordinary bulb. While it is connected to power, the rechargeable battery will remain charged. When power is disconnected, you can continue to light your room by activating it with the remote. The bulb should stay lit for about 7 hours per charge, which is probably longer than the average power outage. When power is restored, the battery will charge once again for the next use. The included 50 LED lights should be sufficient to light a small room.
Another nice feature of Remarkabulb is that there is a 2-inch extension which converts the bulb into a handheld flashlight. The usefulness of this feature will probably depend on where you have your bulb installed and how easy it will be to remove should you need to carry it. I've seen this same feature in this Ascella Emergency Light Bulb.
Overall, Remarkabulb is a great idea that is probably most useful to those who experience regular power outages. In Southern Nevada where I live, outages are so rare that I would probably not use this enough to warrant purchasing it. My friends who ran a small inn in Puerto Rico, where outages were constant, would probably have found this to be quite useful.
Interestingly, Remarkabulb was briefly marketed in early 2013, and at that time it was stylized as "RemarkAbulb." There is also still an older Amazon listing for the original version, also it only has one review. It may seem odd that a product would virtually disappear only to re-appear almost five years later, but that is not uncommon in the As Seen on TV universe. The Clapper came out in the early 1980s and can still be found in stores. D-Frost Wonder was first marketed around 1995 and has had periodic advertising campaigns ever since (including early 2016). Thus, it would appear that Telebrands' popular storefront known as BulbHead might be a perfect place to give Remarkabulb another shot. I've seen products such as Fur Wizard fail in test marketing only to thrive when branded by BulbHead as the Hurricane Fur Wizard. Re-branding this product under the Atomic Beam name may be all it needs to find success a second time around.
The primary difference between the new version and the old version is that the old version required you to press a button to activate the light, while the new version uses a remote control.
Can BulbHead create a winner by reviving an old product like Remarkabulb? I wouldn't be surprised.
Alternatives
If the idea of Remarkabulb seems new, you may be surprised to find that there are numerous emergency light bulbs on the market. This $17 model sports the basic same function as Remarkabulb and is available via Amazon Prime. You may have also seen ads for LyfeLite, which had a significant advertising campaign in early 2017.
Television Commercial
Your RemarkaBulb Reviews
Have you used RemarkaBulb or something like it? Leave a comment below and a star rating above to let us know your thoughts.