RemeAll is a natural, topical pain relief cream which includes 14 essential oils. Read our RemeAll review here.
Sponsored Links
About RemeAll
RemeAll is a topical cream designed to ease pain. It includes 14 essential oils. The product website is remeall.com, which was registered in March 2016. The screenshot below shows the official website in May 2016.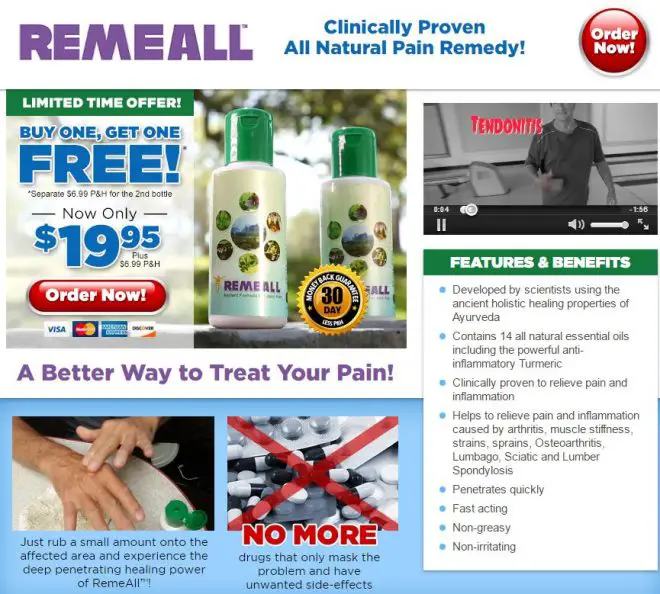 Claims and Features
Uses ancient holistic healing properties of Ayurveda
14 essential oils
Oils include: Eucalyptus, Sesame, Cinnamon, Boswellia, Mentha Plant, Vitex Negundo, Lemongrass, Camphor, Ginger, Clove, Ricinus, Gaultheria, Turmeric, and Pine Plant
Relieves pain and inflammation
Good for arthritis, muscle stiffness, strains, sprains, Osteoarthritis, Lumbago, etc.
Fast acting and non-greasy
Cost
RemeAll costs $19.95 + $6.99 shipping. A second "Free" bottle is included for another $6.99 shipping – which you cannot opt out of. This brings your total order to $33.95 for two bottles. The order page does not include a subtotal, so be careful while placing your order.
Sponsored Links
There is a 30-day money back guarantee, minus shipping.
RemeAll Review
RemeAll (pronounced "remmy-all") is a pain relief lotion which is said to use healing properties of Ayurveda. It contains 14 essential oils and Turmeric. A discussion of the effectiveness of essential oils and turmeric cream for pain relief is far beyond the scope of a single product review. Suffice it to say that both types of creams do have rather vocal proponents who swear by them. If you are hoping that studies can shed light on the topic, you will find little consensus in that area, however.
The included essential oils (listed above) highlight some of the more popular choices for pain relief creams and serums such as this. The ingredients aren't comprehensive, but cover a wide enough spectrum that it should satisfy most users. There are other pain relief creams which contain different essential oils. You may have to experiment before you find the right combination that works best for you.
You may be interested in comparing RemeAll to other essential oil pain relief products, such as Rapid Relief, which contains 9 essential oils (only two of which are found in RemeAll) and has a solid 4.6 star rating on Amazon. Customers of products such as RemeAll or Rapid Relief tend to express positive opinions, although you should have realistic expectations about the amount of relief it can offer. Clinical studies show somewhat mixed results, and expected pain relief should be considered mild to moderate at best. You may also want to keep in mind that a pain relief cream will not cure any underlying condition.
Although it's not the only game in town, those who have realistic expectations will likely find RemeAll to be a worthy product. The mandatory non-refundable double shipping, however, is unfortunate.
Your RemeAll Reviews
Have you used RemeAll? Let us know what you think by leaving a comment below and a star rating above.