Retailmenot is a coupon and deal website and smartphone app.
Sponsored Links
About Retailmenot
RetailMeNot is a coupon website and app which offers a large number of deals and coupons, and is free to use.
The product website is retailmenot.com, which was registered in October 2006 . The screen capture below shows the official website in August 2015.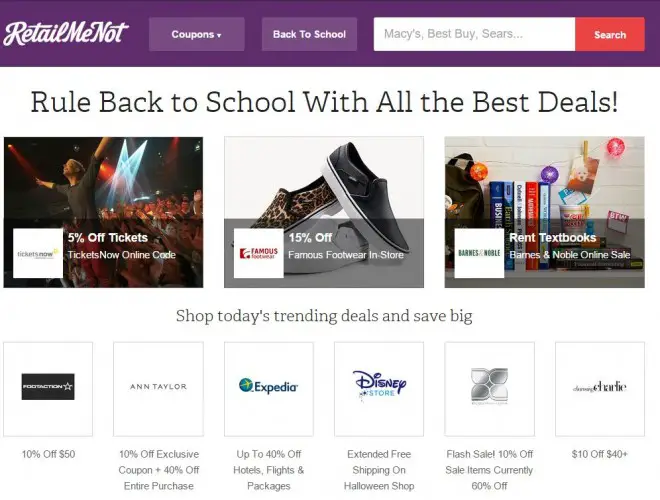 What They Claim
50,000+ stores
Thousands of coupons and deals
Free smartphone app (Android and iOS)
RetailMeNot Cost
RetailMeNot is free to use.
Sponsored Links
Reviews
RetailMeNot is one of several coupon sites/apps out there which attempt to provide a comprehensive coupon program. On the plus site, there are a wealth of coupons available, although the staggering number can almost be too much at times.
Some of the deals may take you directly to the merchant website, such as a clearance item on the Best Buy website, for example. Several other deals include a free item when signing up for an app or newsletter, which are also directed straight to the site from RetailMeNot.
There is a community of coupon enthusiasts on the site, and it is handy to see how many times each code or deal has been used.  It is also handy to see the up-votes and down-votes for individual offers.
Perhaps the greatest problem with RetailMeNot is that there have been complaints of coupons not being valid or accepted from local establishments. It's unclear why such coupons would exist, although a number of anecdotal reports have suggested that the coupons may be applied to regional chains when only a local deal was offered.
For free, it is still probably worth checking in with RetailMeNot to stash a few coupons for your favorite establishments and at least try the coupons available.
Television Commercial
Your RetailMeNot Reviews
Let us know what you think of Retailmenot by leaving a comment below and a star rating above.