Right Size Belt Review: Expanding Belt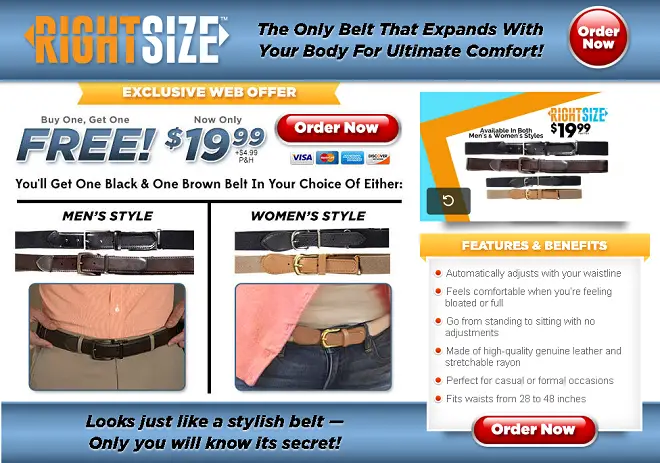 Right Size Belt is a belt that spontaneously expands and contracts with your waistline. Does it work as advertised? Here is our Right Size Belt review.
Sponsored Links
About Right Size Belt
Right Size Belt is a self-adjusting belt with a genuine leather facade and a flexible backside that is made of rayon. The official website is rightsizebelt.com, with a registration date of May 2017. The screen capture below was taken of the product website in August 2017.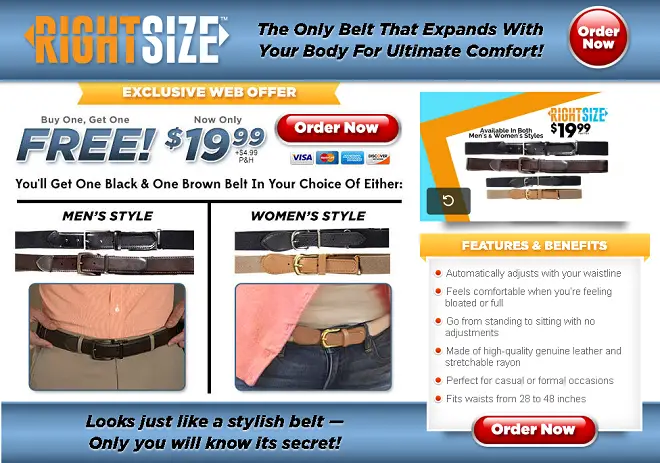 Claims & Features
Adapts automatically to the size of your waist
Comfortable even when bloated or after a big meal
Sitting and standing do not require readjustment
Manufactured from real leather and flexible rayon
Ideal for any occasion
Compatible with waistlines from 28-48 inches
Cost
When ordering Right Size Belt, there is a mandatory buy one get one offer that includes a black belt and a brown belt. The cost is $19.99 + $4.99 P&H for a total of $24.98. There is a choice between men's style or women's style. At the time of this writing, Right Size Belt is not available in stores.
Sponsored Links
Right Size Belt Review
Belts are a relatively new addition to the As Seen on TV genre. Last year saw one of the first significant offerings with Comfort Click Belt, which is a ratcheted belt that was generally well-received. That item was similar to TrakLine belts, which are probably even higher rated. With Right Size Belt, we have a slightly different idea than those ratchet belts, however.
Right Size Belt is something of a hybrid, as it combines a leather belt with an elastic belt. The front of the belt is leather and gives the appearance that you're wearing a standard leather belt. That front section, however, is connected to a stretchable rayon material that acts like a standard elastic belt. Thus, you get the stylish look of a leather belt, but the forgiving nature of a stretchable belt.
When I was heavier, I owned a couple of elastic belts, and I found them to be functional by holding my pants up while also giving a little extra room when needed. The problem is that those belts aren't typically very stylish, and I always felt like I was advertising the fact that my waistline was problematic. That, to me, is where Right Size Belt shines. The fact that it functions as an elastic belt but gives the appearance of a leather belt is a compelling reason to give this a closer look.
Keep in mind that Right Size Belt is a very new product, and may not be beyond test marketing at this point. You'll want to exercise patience when ordering as new products like this tend to ship more slowly than more established items.
Alternatives
You can find quite a few stretch belts already on the market, but most of those have a braided design. Right Size Belt is similar to something like this men's elastic belt which also has a leather front, and sells for about $17.
Your Right Size Belt Reviews
What are your thoughts about Right Size Belt? Drop a comment below and a star rating above to let us know what you think about it.