Robo Twist is an automatic jar opener that is advertised as a way to open even the toughest of lids. Read my Robo Twist review here.
Sponsored Links
About Robo Twist
Robo Twist is an As Seen on TV jar opener that is said to easily open even the toughest of jars. The product website is buyrobotwist.com, which was registered in January 2016. The screenshot below shows the official website in May 2016.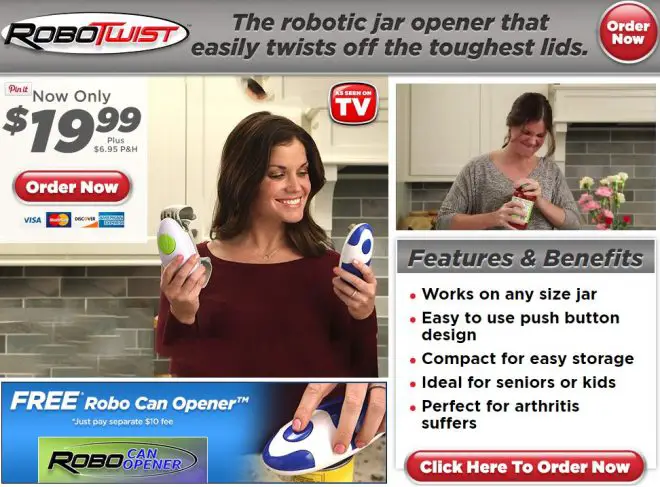 Claims and Features
Works on jars of all sizes
Push button function
Compact, easily stored
Good for children and elderly
Helps those with arthritis
Cost
You can get Robo Twist for $19.99 + $6.95 shipping, which totals $26.94. There is an option to add a "free" Robo Can Opener for a $10 fee (I'd like to know how this qualifies as "free" if there is a $10 fee that isn't considered shipping). Keep in mind that shipping is not refundable.
You can find Robo Twist in stores for about $20.
Robo Twist Review
Robo Twist is an automatic jar opener that works on just about any size jar. The instructions state that it can operate on jars from 1 inch to 3.5 inches in diameter, and lids that are 1.2 inches to 3.5 inches in size. To operate, you simply place the Robo Twist on top of a sealed jar and press the button for three seconds. First it will grab the lid, then it will begin unscrewing until the jar is opened.
In most cases, Robo Twist will get the job done. It can handle a wide variety of jars, and often opens those which are too tight for the average person to pry open.
Sponsored Links
There are, however, some cases in which Robo Twist may not be as effective. Some jar designs, such as those with very thick lids or tapered glass may prove too slippery and could require you to hold it in place. Some consumers have tried to use it on lids as small as ketchup or soda bottles, which are probably not a size Robo Twist is designed to handle. In my review below, you'll see that it didn't open a soda bottle, but handled everything else quite well.
The instructions state that you shouldn't use Robo Twist with plastic jars, but in my tests, I found that it handled them quite well. Depending on the size of your lid, it can take anywhere from 15 to 60 seconds to open a jar.
The only minor complaints I have is that it can be loud, and that it takes much longer than opening a jar by hand. If, however, you simply can't get a a jar open by any other means, those negatives become moot.
Overall, however, Robo Twist will get the job done for the majority of your jar-opening needs. Battery life should not be a problem, and operation is mostly effortless. Most consumers will find this their go-to jar opening tool over time.
A popular competitor online is the Hamilton Beach Open Ease Automatic Jar Opener. That product sports a very similar design to Robo Twist and currently holds a 3.8 star rating on Amazon with about 2,000 consumer reviews. Many of the pros and cons associated with that product will be similar to Robo Twist. It would appear that Robo Twist is either a re-branding – or knockoff – of One Touch Jar Opener, which was marketed several years ago.
Robo Twist, or products like it, may be a good gift idea for elderly or those suffering from arthritis.
Video Review
See my tests of Robo Twist on 11 different unopened jars and bottles.
Television Commercial
Your Robo Twist Reviews
Have you used Robo Twist? Let me know what you think by leaving a comment below and a star rating above.
Updated November 2016