Safe Grabs are microwavable silicone mats that serve a variety of purposes in the kitchen. Do they work as advertised? Here is our Safe Grabs review.
Sponsored Links
About Safe Grabs
Safe Grabs are food grade silicone mats that can be used as splatter guards, trivets, place mats, pot grabbers, jar openers, or food covers. The official website is safegrabs.com, with a registration date of December 2015. The screen capture below was taken of the product website in June 2017.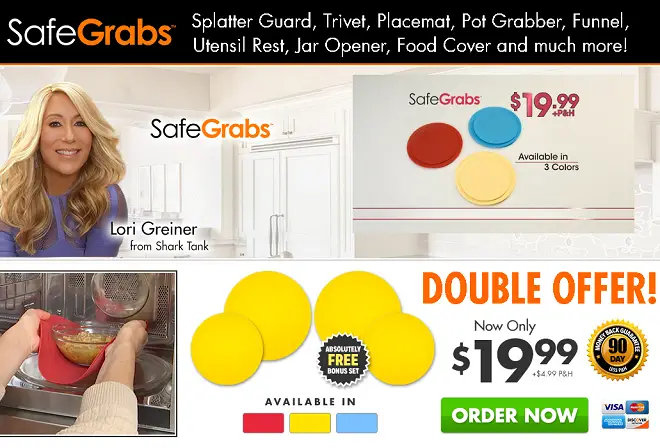 Claims & Features
Securely lift hot dishes from the microwave
Remains cool to touch
Hold dishes in place with non-slip ridges
Doubles as a trivet, splatter guard, and/or food cover
Open any sized jar with grips
Can be stored inside microwave
Made of food grade silicone (free of BPA)
Cleaning is simple
Cost
A set of 2 large and 2 small Safe Grabs costs $19.99 + $4.99 P&H for a total of $24.98. They are available in three different colors: red, blue, or yellow. At the time of this writing, Safe Grabs are not available in stores.
Sponsored Links
Safe Grabs Review
The idea behind Safe Grabs is quite simple: A round silicone mat that is placed in your microwave to allow for easily handling once food has been cooked. To use Safe Grabs, you simply place the mat in your microwave, and then place your dish on top of the mat. After cooking your food, you can simply lift from below the Safe Grabs to keep your hands safe from being burned. Transferring the mat and dish to the table will allow Safe Grabs to double as a place mat.
My cabinet is full of "microwave safe" dishes that still get unbearably hot, so an item like this is an ideal fit for my kitchen. Cloth pot holders work OK, but they can be too smooth and awkward to hold a glass bowl, for example. The silicone in Safe Grabs grips your dish, so you are less likely to drop it.
There are other advertised uses for Safe Grabs, which may be of moderate use to some consumers. The smaller mats could double as a silicone jar opener, for example. The larger mats can be placed over a bowl to use as a cover in the fridge, although it wouldn't create a seal, so this would only be useful in some situations. Perhaps the best secondary use of Safe Grabs is that of a microwave cover. Thus you could use the larger mat below a bowl, and the smaller mat on top of the bowl to protect your hands from heat and the inside of your microwave from splatter.
Overall, I think Safe Grabs is a simple and elegant solution for a common problem. For that, I give it high marks. $25 for four silicone mats, however, seems a bit overpriced. It seems more like a $15 product to me, especially when you can find less expensive options on Amazon with little to no shipping. If you aren't a big fan of Amazon, and want to get the highest quality product, go with Safe Grabs. If you just want something inexpensive that works about the same, you may want to investigate other options.
Alternatives
You may be surprised to find that Safe Grabs are not the only game in town. Check out Micro Easy Grab, which looks practically identical to Safe Grabs. An even cheaper option is this $6 silicone microwave mat, which sports a 4.4 star rating among hundreds of consumers. Or how about this $7 two-pack, which also functions about the same? It may pay to shop around.
Your Safe Grabs Reviews
What are your thoughts about Safe Grabs? Drop a comment below and a star rating above to let us know what you think about it.