Samurai 360 is a round knife that rolls forward and backward for fast cutting and slicing. Read my extensive hands-on Samurai 360 review.
Sponsored Links
About Samurai 360
Samurai 360 is a round blade that can be rolled over food in order to cut quickly and easily. The official product website is buysamurai360.com, with a registration date of June 2016. Below is a screen shot of the official website taken in November 2016.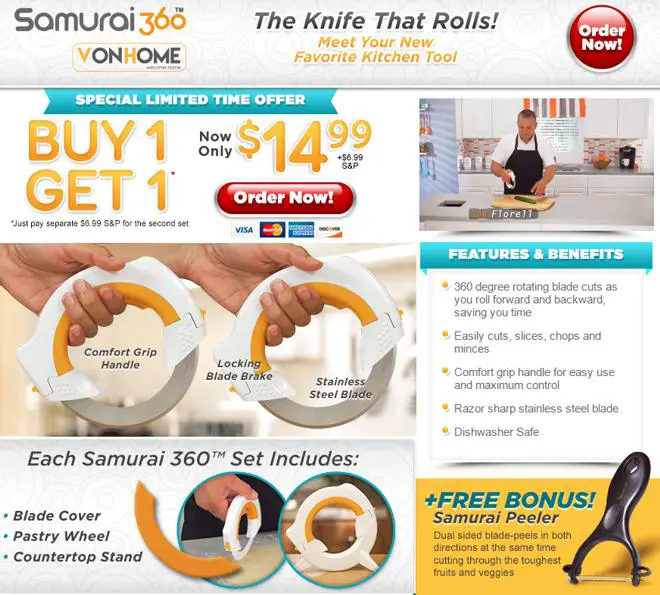 Claims & Features
360-degree rolling blade
Cuts, chops, slices, and minces
Sharp stainless steel blade
Dishwasher safe
Comfort grip
Lock blade brake
Cost
Samurai 360 costs $14.99 + $6.99 shipping. A second unit is added to your "Buy One Get One" offer for another $6.99 shipping. This brings your order total to $28.97 for two units.
I found Samurai 360 at a local Walmart in March 2017 for about $20.
Samurai 360 Review
It's a knife that works like much a pizza cutter. Samurai 360 is a round blade with a handle that allows you to cut food using a very different method than with traditional knives.
To use Samurai 360, you hold the handle and roll the blade over food. Cuts can be performed rolling forward or backward, and demonstrations in the television commercial show chefs quickly rolling the blade in both directions for ultra-fast cutting.
In my tests of Samurai 360, you can see that I had better results with some food than others. Certain foods like tomatoes, cucumber, brownies, and potatoes, it performed excellently. I did, however, find there was a lack of precision the faster I went. As I slowed down, I was able to get more precise cuts.
Other foods, such as meats, were not quite as successful. I was able to slice chicken breast pretty well, although it required a little more force, but cutting steak was awkward and difficult. Carrots were probably the most problematic, and the blade didn't roll through them as easily as with other foods.
It is fun to use, easy to hold, and effective for some cutting tasks. It is also potentially dangerous if you aren't careful. Notice, for example, in the photos above how close my fingers get to the knife while rolling the blade across food.
There are, of course, some limitations worth pointing out. The visible blade isn't very tall, thus it seems better geared toward flatter foods. You'll notice above that I had to halve items such as the potato, tomato, and cucumber. When I tried to cut foods too tall for the blade, the handle would press into the food and cause problems.
The instructions state that you need to disassemble the product in order to wash it, and the blade should only be washed by hand. The handle can be placed in the dishwasher. You'll want to clean it after every use, because food can get trapped in the part of the handle that is closed off.
Sponsored Links
Although Samurai 360 is advertised as a sort of one-stop cutting solution, I think most consumers will use it for a handful of cutting jobs, including that of a pizza cutter. There is a novelty aspect to it, but there are some situations (not all) where it actually outperforms an old fashioned knife. The cleaning process may be too time consuming to bother with on smaller cutting jobs.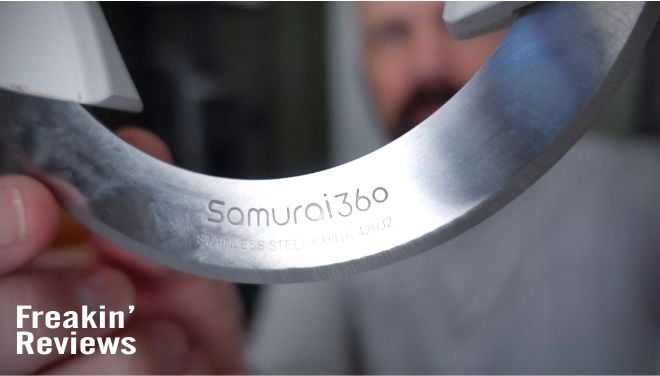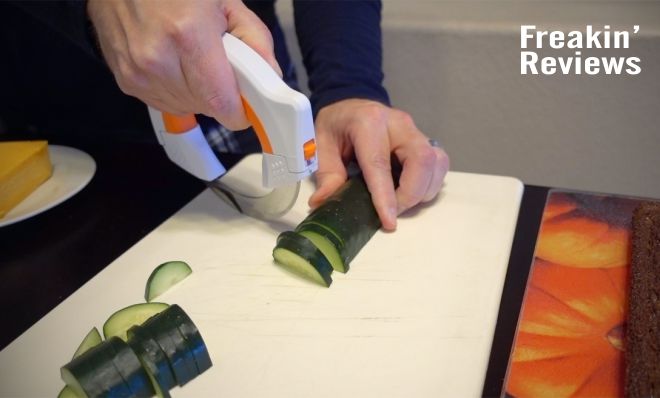 I think that Samurai 360 will perform about as advertised on foods that are under about 2 inches tall with some items. Don't expect it to glide through carrots or steak, however. There seems to be something of a learning curve if you hope to make very precise cuts. You may find several uses for it around the kitchen, but it probably won't replace your established cutlery set, especially on thicker food items.
Alternatives
There was a similar item that briefly appeared in mid-2016 called Red Copper Roller Blade, although that item quickly disappeared. You can find several other rolling blades such as the W.H.M.S. Circular Rolling Knife for about $17, or this ZenLife rolling blade that is listed as an "Amazon Choice" for $13.
Video Review
See my full hands-on video review of Samurai 360 below.
Your Samurai 360 Reviews
Have you used Samurai 360? Give us your thoughts by leaving a comment below and a star rating above.