Samurai 360 is a round knife that rolls forward and backward for fast cutting and slicing. Does it actually work? Read our Samurai 360 review.
Sponsored Links:
About Samurai 360
Samurai 360 is a round blade that can be rolled over food in order to cut quickly and easily. The official product website is buysamurai360.com, with a registration date of June 2016. Below is a screen shot of the official website taken in November 2016.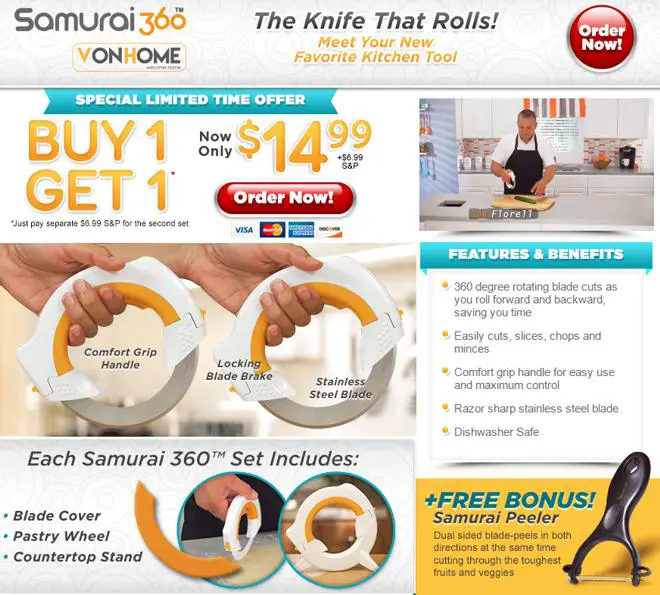 Claims & Features
360-degree rolling blade
Cuts, chops, slices, and minces
Sharp stainless steel blade
Dishwasher safe
Comfort grip
Lock blade brake
Cost
Samurai 360 costs $14.99 + $6.99 shipping. A second unit is added to your "Buy One Get One" offer for another $6.99 shipping. This brings your order total to $28.97 for two units.
Samurai 360 Review
It's a knife that works like much a pizza cutter. Samurai 360 is a round blade with a handle that allows you to cut food using a very different method than with traditional knives.
Sponsored Links:
As a matter of transparency, I have not used the "actual" Samurai 360, but I have used a virtually identical product and I am basing my opinion below on that experience, until I can secure a Samurai 360 for closer inspection.
To use Samurai 360, you hold the handle and roll the blade over food. Cuts can be performed rolling forward or backward, and demonstrations in the television commercial show chefs quickly rolling the blade in both directions for ultra-fast cutting.
It is fun to use, easy to hold, and effective for a variety of cutting tasks. It is also potentially dangerous if you aren't careful. Notice, for example, in the commercial below how close the chef gets to his fingers while rolling the blade across food.
There are, of course, some limitations worth pointing out. The visible blade isn't very tall, thus it seems better geared toward flatter foods. You'll notice in the commercial below that we don't see a full-sized tomato being sliced, but rather one that has already been cut in half.
Although Samurai 360 is advertised as a sort of one-stop cutting solution, I think most consumers will use it for a handful of cutting jobs, including that of a pizza cutter. There is a novelty aspect to it, but there are some situations (not all) where it actually outperforms an old fashioned knife.
I think that Samurai 360 will perform about as advertised on foods that are under about 2 inches tall. You may find several uses for it around the kitchen, but it may not replace your established cutlery set, especially on thicker food items.
Alternatives
There was a similar item that briefly appeared in mid-2016 called Red Copper Roller Blade, although that item quickly disappeared. You can find several other rolling blades such as the W.H.M.S. Circular Rolling Knife for about $17.
Television Commercial
Your Samurai 360 Reviews
Have you used Samurai 360? Give us your thoughts by leaving a comment below and a star rating above.