Sapoto V Pillow is a cozy contoured pillow filled with millions of air beads. Does it work as advertised? Here is our Sapoto V Pillow review.
Sponsored Links
About Sapoto V Pillow
Sapoto V Pillow is an ergonomically designed pillow that contains over 10 million micro beads. The official website is thevpillow.com, with a registration date of February 2017. The screen capture below was taken of the product website in May 2017.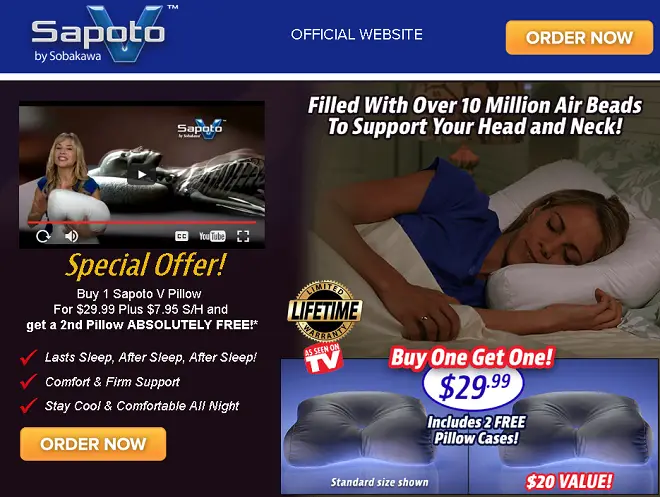 Claims & Features
Comfortable, yet firm
Filled with over 10 million micro air beads
Contoured shape to support neck & shoulders
Stays cool through the night
Hypoallergenic
Cost
There are three different offers for ordering Sapoto V:
Buy 1 get 1 free: 2 pillows + 2 pillow cases (standard size) – $29.99 + $7.95 shipping = $37.94
1 pillow + 1 pillow case (full size) – $29.99 + $8.95 shipping = $38.94
1 pillow + 1 pillow case (Queen/King size) – $39.99 + $9.95 shipping = $49.94
Sapoto V Pillow Review
When I first heard of Sapoto V, I thought the "V" was for "5" and that I had somehow missed the first four incarnations of this pillow. Alas, the V is only meant to represent the shape of the pillow, brought to you by Sobakawa.
Sponsored Links
I've had a few Sobakawa pillows over the years, and others filled with beans, beads, feathers, down, and just about every other material you can think of. I've also seen other pillows asserted to be "the best pillow you've ever owned," like MyPillow. Virtually every one of these pillows I've used in the past have consumers who loved them and consumers who didn't.
The problem with a such a blanket statement as "the best pillow you've ever owned" is that comfort is not universal. I prefer very thin, almost nonexistent, pillows. Thicker pillows, even those that are supposed to conform to your head and neck, are usually too thick for me. Conversely, I once had a friend who slept with so many pillows that his head was about a foot away from the mattress. I couldn't fathom how he found that to be comfortable. It's hard for me to imagine a single pillow being the most comfortable to both me and my friend, with our preferences seemingly a galaxy apart.
Another potential problem is that those sensitive to sound or smell may also want to choose carefully. The chemical smell that Sobakawa pillows emit can be bothersome to some consumers, and the sound of the beads as your head compresses against them may also bother those sensitive to a "loud" pillow.
It seems that Sapoto V Pillow is a bit of a re-tooling of the Sobakawa Cloud Pillow. That item is still available for about $23, and shares many traits and advertised features with Sapoto V. Both have millions of "air beads" as filler (Cloud Pillow is 20 million, Sapoto V is 10 million). Both have "cooling technology" and conform to your head. One is crescent shaped while the other is V shaped. Both come with a free pillow case, and both were advertised with the same "egg" test to prove their filler is superior to other types.
Thus, Sapoto V seems to be jumping on the V Pillow bandwagon, but otherwise seems to be a Sobakawa Cloud Pillow with a slightly different shape.
In the end, I think buying a pillow sight-unseen is always a gamble. While I believe the majority of people who use Sapoto V will like it, those sensitive to size, smell, and even sound of their pillows may want to look for something locally to test out first.
Alternatives
As mentioned above, the Sobakawa Cloud Pillow is very similar to this product, and can be obtained via Amazon Prime for about $23. For an even less expensive option, this Remedy micro-bead pillow runs about $14 and has respectable consumer ratings.
Television Commercial
Your Sapoto V Pillow Reviews
What are your thoughts about Sapoto V Pillow? Drop a comment below and a star rating above to let us know what you think about it.