Secret Bangs are clip-on bang extensions that appear, feel, and move like real hair. Do they work? Read our Secret Bangs review.
Sponsored Links
About Secret Bangs
Secret Bangs are a set of hair extensions that clip on to provide instant bangs. They are manufactured of keratin conditioned fibers that appear like real hair. The product website is secretbangs.com, which was first registered in November 2014. The screen shot below shows how the product website looked in March 2017.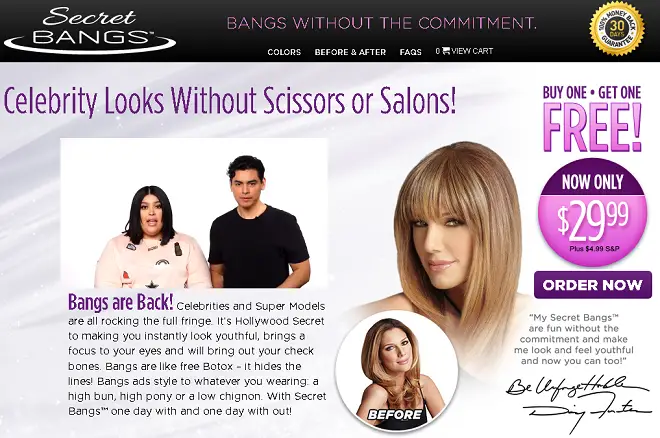 Claims & Features
Quick clip-on bang extensions
Looks, feels, & moves like authentic hair
Doubles hair volume
Available in 11 colors
Guaranteed to blend into your natural hair
Cost
Secret Bangs cost $29.99 + $4.99 P&H + $1 web processing fee for a total of $35.98. There is a mandatory buy one get one free bonus set automatically added.  As of this writing, this offer is not available in stores.
Sponsored Links
Secret Bangs Review
If you've seen advertising for Secret Bangs, you almost certainly remember commercials for Secret Extensions a few years ago that featured Daisy Fuentes. Secret Extensions were heavily advertised for a couple of years, and that was followed up with Secret Extensions Double Volume. Now the brand is back with Secret Bangs, a product which gives you the ability to quickly clip on a set of bangs in order to accent your hair style. Actually, this item first appeared a couple of years ago, then disappeared, and has now reappeared with a new advertising campaign in 2017.
Having fielded comments on various sites for years about Secret Extensions, I do have a pretty good feel about how consumers felt about that product – which would best be described as mixed.
Fortunately, many of the problems with Secret Extensions don't really apply to Secret Bangs. For example, consumers felt like there wasn't enough hair in each Secret Extension, and that the elastic band wasn't durable. Neither of those would really apply to Secret Bangs.
One concern with Secret Extensions that may apply to Secret Bangs is how well the color will blend in with your natural hair. This applies to the purchase of any synthetic hair online, because this can be quite problematic even under ideal conditions. If you are able to find a close match to your hair color, you'll likely be satisfied. If, however, you order a color that doesn't end up matching your hair, your satisfaction with Secret Bangs could be minimal.
It is a nifty design that can look pretty sharp when you get it to blend well with your hair. How thick or curly your hair is can also affect how well these mesh with existing hair.
You may want to read up on Secret Extensions to get a feel for consumer feedback on the quality of the synthetic hair, which is likely to be similar with Secret Bangs.
I have yet to see a set of clip-on bangs that holds universally high ratings, primarily because it is difficult for a single product to blend in with the variety of hair designs out there. Some styles of hair are more forgiving than others, too.
Unlike some synthetic hair, you can wash, brush, and even cut Secret Bangs in order to create a more realistic match to your hair.
If the website and commercial look compelling to you, Secret Bangs may be worth a shot. Although this product was first marketed a couple years ago, there is very little consumer feedback yet to get a consensus as to whether or not most people find them useful.
I'll update this space when more information becomes available.
Alternatives
The idea of clip-on bangs is certainly not new, and you can find numerous offerings ranging from $6 and up.
Your Secret Bangs Reviews
What do you think of Secret Bangs? Tell us what you think by leaving a comment below and a star rating above.