Secret Extensions Double Volume are hair extensions which provide more volume than the original Secret Extensions. Does it work? Read my Secret Extensions Double Volume review.
Sponsored Links
About Secret Extensions Double Volume
Secret Extensions Double Volume are the follow-up to the popular Secret Extensions which heavily advertised a few years ago. The official website is secretextensions.com, which was registered in August 2012. The screen shot below was taken of the product website in December 2016.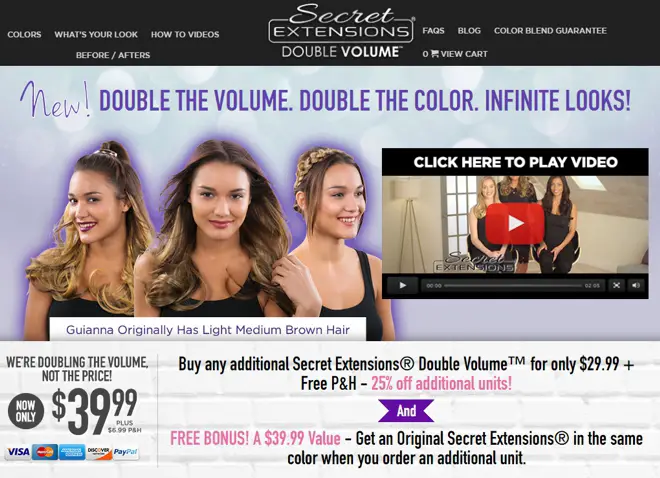 Claims & Features
Extensions blend into hair with invisible headband
More volume and color options than the original Secret Extensions
Available in 11 colors
No damaging glue or clips
Cost
You can get Secret Extensions Double Volume for $39.99 plus $6.99 P&H. There is an option to add a second unit for another $29.99 with no P&H. Ordering a second unit will also get you an original Secret Extensions of the same color. A $1 "web service fee" is added to all online orders.
As of this writing, Secret Extensions Double Volume isn't available in stores.
Secret Extensions Double Volume Review
The original Secret Extensions were wildly popular when they first arrived on the scene almost three years ago. The convenient headband design proved to be an alluring feature to customers who sought another option over hooks and glue. Now we have a follow-up version called Secret Extensions Double Volume.
Sponsored Links
There were a number of problems reported by consumers regarding the original version of Secret Extensions. As you can read from my 2014 review of Secret Extensions, consumer complaints included the inability to curl it, shedding during brushing, stingy volume, iffy quality, and limited color options. Some users also said that the headband was not as "secret" as the name implied, but this seemed to be completely subjective and based largely on the user's hair style.
It would appear that the makers of Secret Extensions have since hit the drawing board to address two of the biggest complaints: volume and color. Indeed, the new incarnation features more volume and 11 different colors, which should allow you to more closely match your hair color than the original. Some of the other issues, such as quality and the inability to curl the extensions, don't appear to have been addressed in this round.
Overall, I'm glad to see two of the primary complaints with the original Secret Extensions have been addressed, yet maintaining the original pricing structure. That doesn't mean that some of the original problems won't be carried through to this version, but if volume and color were your primary concerns, this may be a good time to consider Secret Extensions Double Volume.
Perhaps the biggest problem with Secret Extensions Double Volume is that it is only available online, meaning you can't examine them in person and hold them up to your hair to see how well they blend with your existing color. If you have streaked hair, or a color that is somewhat out of the norm, your best bet may still be a specialty store.
If you're still on the fence, you can still take a peek at the original Secret Extensions – which are readily available in stores – to examine their quality.
In the end, reviews for Secret Extensions Double Volume are almost certain to be as mixed as the original product. There are simply too many hairstyles and colors out there for this to appeal to everyone. When this version becomes available in stores, there will be no reason to even consider the original. Until then, however, you'll have to weigh the benefits of extra volume and more color choices against the ability to see them in person, albeit with less volume and less color options.
Alternatives
You can always find the original Secret Extensions, which now cost only about $23 – keeping in mind the limitations mentioned above.
If you want to try something a bit less risky to your pocketbook, this $9 clip extension set has a respectable 4.2 star rating online.
Your Secret Extensions Double Volume Reviews
If you've used Secret Extensions Double Volume, give me your thoughts by leaving a comment below and a star rating above.