Secret Extensions are hair extensions which can be easily worn via an invisible head band.
Sponsored Links
About Secret Extensions
Secret Extensions not only claimed to look real, but also supposedly gives you the appearance of thicker and fuller hair. The process of placing these extensions in your hair is quite easy. The patented, invisible headband simply goes on your head like any ordinary elastic headband. You then simply pull your natural hair over the "keratin conditioned fiber" extensions. The product is said to simulate the look and feel of real hair.
The marketing is enticing. Without out clips or glue you can have hair that looks aesthetically pleasing at a fraction of the cost of the cost of regular hair extensions.
Reviews are readily available, but this YouTube video is the one of the first posted online – and is the closest depiction of how the item actually works. There are a number of negative comments which can't be overlooked, as some customers have stated that the product is cheaply made and does not blend well – giving the appearance that the customer is obviously wearing extensions. Some commenters believe the cost is too much for synthetic hair. Another common complaint is that shipping is often inordinately slow, which should no longer be a problem now that it can be found in stores. Finally, it has been suggested by some consumers that multiple sets must be used in order to fill out a full head of hair.
Sponsored Links
Indeed, if you watch the commercial below, it does seem that the amount of extensions removed from the models' hair in the commercial is significantly more than a single set. Only those with very thin hair would be satisfied with a single set.
Secret Extensions is one of the longer-running As Seen on TV products still airing. As of January 2016, it has been featured in television advertising for nearly two years.
Official Website
www.secretextensions.com
Creation Date: 22-aug-2012
Contact
Customer Service Phone: 1-844-496-8248
Customer service is available Monday through Friday from 8:00am to 8:00pm Eastern Time.
Claims/Features
"Gives you thick, natural-looking volume and length in seconds!"
Perfectly blends in with your hair.
Completely invisible.
Available in 12 colors
Cost
$39.99 +$6.99 p&h = $46.98
30-day money back guarantee (minus p&h).
Get a second extension for $4.99 P&H.
Shipping is expected to take 1 to 3 weeks.
There is a 30 day money back guarantee, less shipping
Screenshot
Below is a screen shot of the official website, taken in May 2014.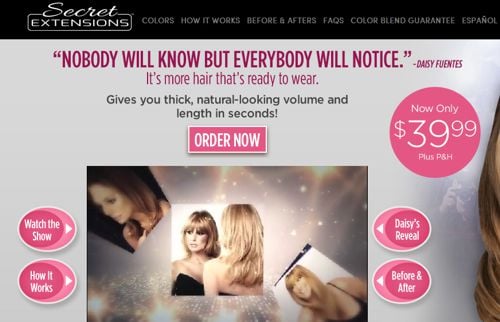 Television Commercial
The commercial below has been running since early 2014. It continues to run in early 2016, and there is also a Spanish-language version which also began airing in 2015.
Secret Extensions Reviews
Have you tried Secret Extensions? Please give us your review in the comments below and give it a star rating above.
First Published May 2014
Modified January 17, 2016