Sensa Clean is an ionic toothbrush which can reduce plaque by up to 50% over standard toothbrushes. Does it work? Read our Sensa Clean review.
Sponsored Links
About Sensa Clean
Sensa Clean is a touch-activated ionic toothbrush advertised on television. The official product website is getsensaclean.com, with a registration date of May 2016. Below is a screen shot of the official website taken in November 2016.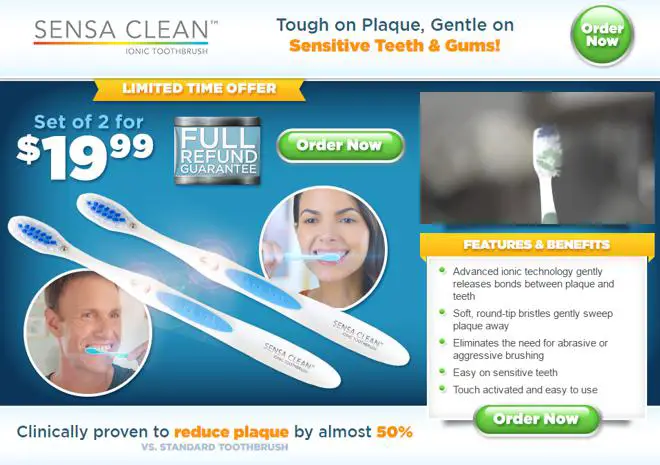 Claims & Features
Ionic toothbrush releases bongs between plaque and teeth
Soft, round tip bristles
Ideal for sensitive teeth
Touch activated
No need for aggressive brushing
Reduce plaque by almost 50%
Cost
Sensa Clean costs $19.99 + $3.99 shipping for two brushes. You won't find Sensa Clean in stores as of this writing.
Sponsored Links
Sensa Clean Review
Sensa Clean is an ionic toothbrush specifically geared toward those with sensitive teeth.
To use Sensa Clean, you simply touch the blue switch on the top of the handle to activate the unit. A blue indicator light allows you to see that the unit is in operation. Once activated, you simply brush your teeth as your normally would. The ionic technology will help remove more plaque than a standard toothbrush.
The soft bristles work in conjunction with the ionic technology to help wipe plaque away from your teeth.
Ionic toothbrushes have been shown to be "clinically effective in removing plaque and improving the gingival conditions" in published studies. They are typically more expensive than a standard toothbrush, but most consumers who are concerned about their teeth typically don't mind the increased cost.
Overall, we're confident that those who use Sensa Clean will see an improvement in plaque reduction if they are upgrading from a standard toothbrush.
If you're currently using a sonic toothbrush, you may not want to switch to an ionic unit, however. The study linked above showed a small advantage of sonic toothbrushes to their ionic counterparts.
Alternatives
A search for ionic toothbrushes will yield hundreds of results, with a wide variety of designs and prices. A popular brand is the hyG-2 Ionic Toothbrush which costs about $30 and includes 5 interchangeable brush heads.
Television Commercial
Your Sensa Clean Reviews
Have you used Sensa Clean? Give us your thoughts by leaving a comment below and a star rating above.