Sew Cool is a sewing machine for kids that does not use thread. Read Sew Cool reviews here.
Sponsored Links
About Sew Cool
Sew Cool is a sewing machine for children which uses a guarded needle along with a special fabric that allows sewing without thread.
Sew Cool Complains and Praise
Although the official website addresses the problem of the machine jamming, this may be occurring if you are using weak or old batteries. If you find your Sew Cool continues to jam, try replacing the batteries.
It should be noted that you can't use any fabric, and that you must buy their special fabric for it to work. One reviewer online suggested that flocked felt may also work, and can be found at any fabric store.
Other complaints about the product are that it only uses batteries, and that the needles cannot be replaced, which means the machine will no longer work if/when such breakage occurs. Some users have said the needle broke soon after purchase, while others have said the needles continued to work after a year or more of use.
Those who like the product have said that it is fun, and gives children a sense of accomplishment doing "grown-up" type projects.
Sponsored Links
Claims and Features
Sew with no thread
Safe for kids
Make characters, doll clothes, bags, and other items
Requires 4 AA batteries
Sew Cool Cost and Availability
There are a variety of Sew Cool products available, but a typical Sew Cool machine costs about $30. There are assorted refills available to create such items as a slumber party kit, purse, and doll clothes.
It is available at Toys R Us, Walmart, Target, Kohl's, and Amazon.
The official website is sewcoolworld.com which was registered back in May 2010. The product is recommended for ages 6 and up.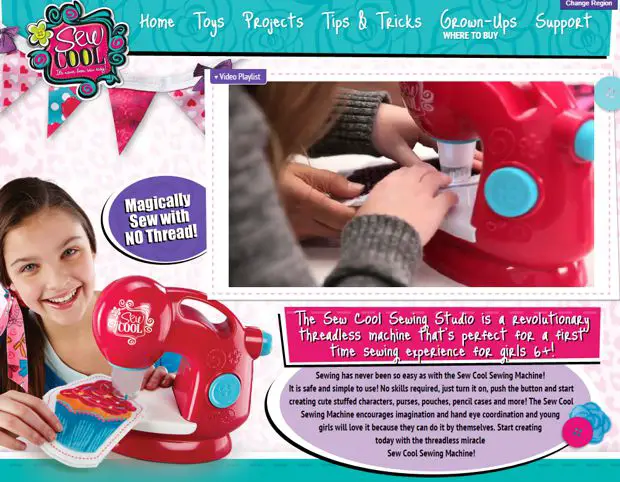 Television Commercial
The television commercial below has been airing in late 2014.
Your Sew Cool Reviews
Have you used Sew Cool? Leave us a comment about it below, and give it a star rating above!