Today I present my full review of the ShamWow Mask, which has been advertising on television and online in mid-2020.
Sponsored Links
Where to Purchase
Currently the only place to purchase the ShamWow Mask is from the official website, shamwowmask.com. It currently costs $30 for two masks, with free shipping. I have not yet seen it on Amazon, but I'll update this space when I do.
My Shamwow giveaway ended on August 13, 2020.
About ShamWow Mask
ShamWow Mask is a zinc-infused mask that is machine-washable, reusable, and breathable. It includes a cotton inner layer and non-woven outer cloth. The official website was created in April 2020.
Claims & Features
100% viscose/polyprophylene
Thermally bonded non-woven cloth
Made in Germany and USA
100% cotton inner shell
Reusable/Washable
Contains zinc "anti-bacterial fighting fibers"
ShamWow Mask Review
Although I did not plan to review any masks during this pandemic, the moment I saw a commercial featuring Vince Offer peddling the new ShamWow Mask, I knew I had to reconsider. After all, I have an entire YouTube Playlist dedicated to reviews of Vince Offer products, including two different reviews of the original ShamWow.
When I posted a photo from the commercial on Twitter, the reaction was a mix of curiosity and ridicule.
Just saw a commercial for a ShamWow mask. Enterprising, opportunist, or both? pic.twitter.com/MO7fRqYXAX

— Freakin' Reviews (@freakinreviews) June 27, 2020
Just because a product idea is ridiculous doesn't mean it won't work, however. So I ordered the ShamWow Mask and received it six days later. I should point out that after checking out on the website, I was hit with six up-sells, ranging from "Employee Discount" of the original ShamWow, to "ShamWow Mitts" to "Priority Handling." I declined all of these offers.
Upon opening the ShamWow, I was surprised that it didn't arrive in retail packaging, but simply loose in an envelope. There were also instructions for the original ShamWow, along with a sheet related to the mask care and disclaimers. The instructions note that it can be washed, but is not to be placed in a dryer, which is also the case with the original ShamWow.
A few users on Twitter asked if it was absorbent or breathable, so I tested both of those things out. The absorbency did seem about the same as an original ShamWow cut to the size of the mask, and its breathability also seemed to be fine.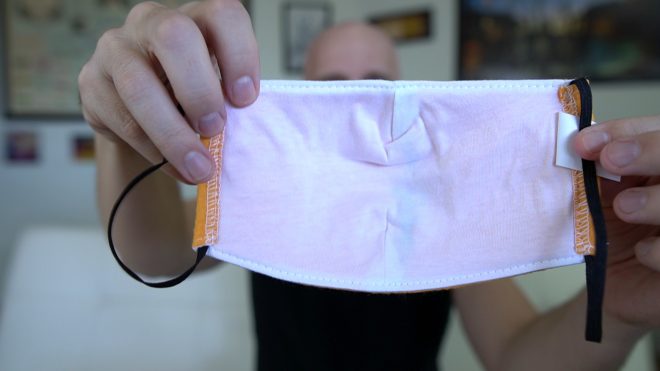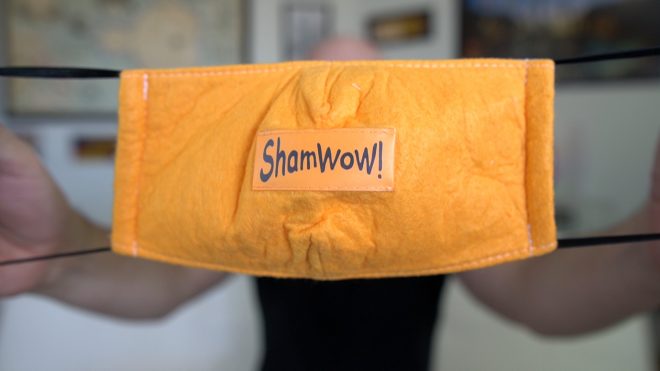 It's difficult to test some of the other claims, such as neutralizing microbes with its zinc-infused fibers. The study cited by the ShamWow Mask website states that this type of material was shown to be effective against bacteria and fungi, but doesn't mention viruses at all. I would take the zinc feature with a grain of salt.
After removing an annoying tag from the cotton liner, I finally tried out the ShamWow mask and noticed that it was heavier (in a good way) than the other masks I have used. The sides were looser than the other masks, but the instructions note that you can adjust the bands by cutting and re-tying them.

Sponsored Links
The first, and probably only, significant "con" after trying out the ShamWow Mask is the large "ShamWow!" logo across the front. It falls right over the mouth and gives a sort of Hannibal Lecter look to the wearer, which I'm quite certain was not the intent. I am not a fan of the logo, which was fortunately easy to cut out.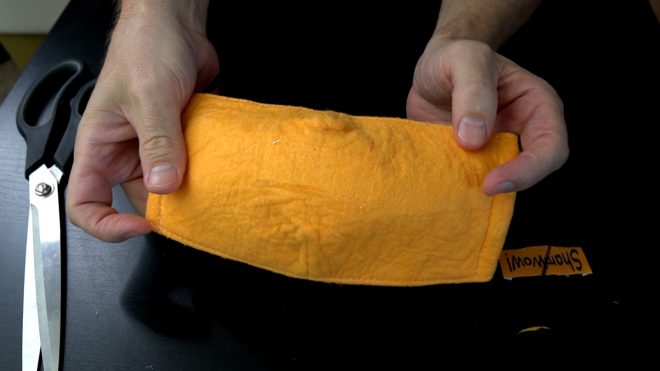 While wearing it out, I actually had a couple of people ask me about it, perhaps due to the recognition of the ShamWow name. The typical question was, "What's special about it?" My answer was usually something along the lines of, "They'd have you believe the fibers are special, but I don't think it's much different than other masks."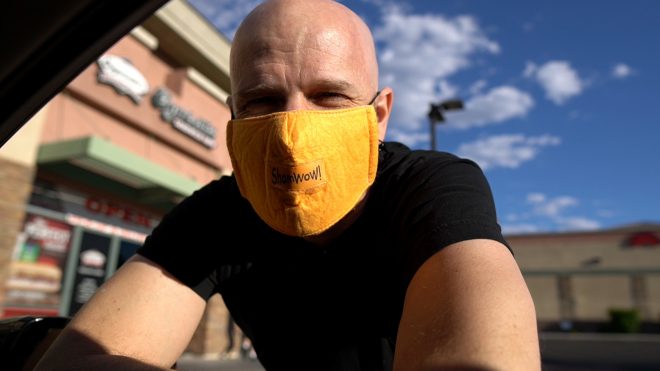 One interesting tidbit that I didn't mention in my video review (embedded below) is that the design of the ShamWow Mask changed after the commercial with Vince Offer was filmed. He was likely wearing a prototype, which is also prominently featured on the website. The design of that model (which you can see in the embedded Tweet above) has more of an angular shape around the nose, while the mask I received is more horizontal at the top. The bands on the prototype are white, while the bands in my version are black. These are small points, but I do think these As Seen on TV companies should update their marketing materials so consumers get exactly what is shown.
Overall, I believe if you don't mind paying $30 for two masks, don't mind the logo (or cut it off like I did), excuse the politically incorrect commercial, and take their claims with a grain of salt, it's actually a fine mask to wear.
Be sure to watch my full review in the video below.
If you've used the ShamWow Mask, tell me what you think in the comments below.