Shape Shifter Max is a compact workout system that exercises the entire body. Does it work as advertised? Here is our Shape Shifter Max review.
Sponsored Links
About Shape Shifter Max
Shape Shifter Max is a convenient piece of exercise equipment that provides a full body workout at any level of fitness. The official website is shapeshiftermax.com, with a registration date of April 2017. The screen capture below was taken of the product website in May 2017.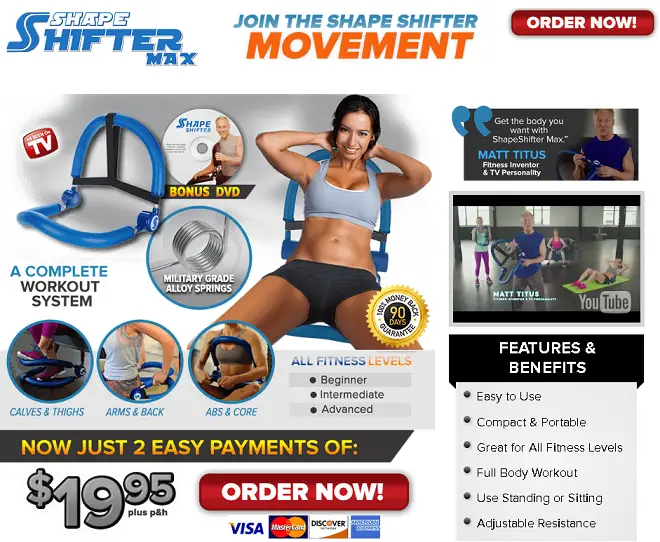 Claims & Features
Simple to use
Portable
Works well for any level of fitness
Provides a workout for the entire body
Usable while standing or sitting
Resistance level is adjustable
Cost
Shape Shifter Max costs $39.90 + $6.99 P&H for a total of $46.89. Payment is split into two installments. The unit comes with a bonus DVD. As of this writing, this offer is not available in stores.
Shape Shifter Max Review
At first glance, Shape Shifter Max appears to be yet another piece of exercise equipment that is destined to be the next coat rack for thousands of consumers. It also slightly resembles a product called Ab Roller that has been around for many years.
While Shape Shifter Max – and just about every piece of exercise equipment – probably will find its place in many garages and closets, its similarity to Ab Roller is only superficial, and consumers may actually find this to offer some benefit.
Sponsored Links
Shape Shifter Max is comprised of two arched sections that are connected via a sort of resistance hinge. Each of these arches can be removed and flipped over to provide additional angles at which it can be used.
Using Shape Shifter Max is usually as simple as squeezing the two sections together. To perform arm exercises such as curls, for example, you simply rest one section against your chest, and perform curls with the lower section.
There is a host of various exercises you can do in this manner, which should cover all of the major areas: core, legs, and arms. You can also use the resistance as a spring to help you do more difficult exercises, such as pushups. In this scenario, you can place Shape Shifter Max under your body as you do pushups, and it will provide some assistance in help you support and raise yourself from the ground during each rep.
Unlike products that sport a similar design, but are made for a single use or muscle group, Shape Shifter Max delivers a more comprehensive workout solution in a small package.
Obviously, if you are trying to bulk up, Shape Shifter Max will only provide minimal benefit due to its limited resistance. For those wanting to burn calories or tone up, this may offer a good portable solution.
Perhaps the most definitive factor regarding the success of this, or any other exercise device, is the effort of the person using it. You'll only get out of a piece of exercise equipment what you put into it. If you find it enjoyable, convenient, and comfortable to use, you'll probably benefit from using it. I know that I am one of those people who always seems to need a new exercise "gadget" to keep my interest for a while. In my case, this is something I'll use for a while, then move onto something else, and then probably go back to it in phases. And to me, that's good enough.
Alternatives
There are so many all-in-one resistance devices on the market that it would be impossible to list them all. Gwee Gym is a surprisingly popular line of portable resistance bands that can be used for a full-body workout.
Wonder Core Smart is somewhat similar to Shape Shifter Max, offering a comparable experience. It costs about $60 and sports a very high 4.4 star rating among over 700 reviews.
Television Commercial
Your Shape Shifter Max Reviews
What are your thoughts about Shape Shifter Max? Drop a comment below and a star rating above to let us know what you think about it.