Shelf Sliders are sliding drawers that attach to existing shelves to create more space. Do they work as advertised? Here is our Shelf Sliders review.
Sponsored Links:
About Shelf Sliders
Shelf Sliders is an organization drawer that maximizes space by connecting to shelving that is already in place. The official website is shelfsliders.com, with a registration date of July 2017. The screen capture below was taken of the product website in July 2017.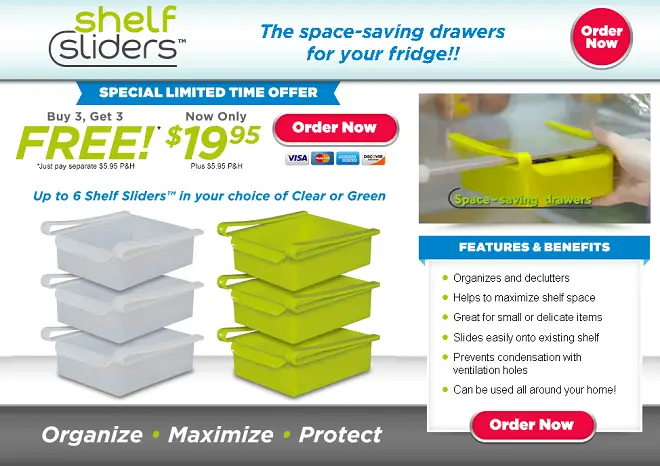 Claims & Features
Keeps things organized
Expands shelf space
Ideal for tiny or fragile items
Conveniently installs onto existing shelving
Ventilation holes restrict condensation
Useful anywhere in the home
Dishwasher safe
Cost
A set of 3 Shelf Sliders costs $19.95 + $5.95 P&H for a total of $25.90. There is an optional double for a separate fee of $5.95 which would bring the total to $31.85. In addition to the single and double offers, there is a Family Pack of 12 Shelf Sliders that costs $39.95 + $11.90 P&H for a total of $51.85. They are available in two colors: clear or green. The Family Pack is available in clear, green, or a combination of clear/green. At the time of this writing, this offer is not available in stores.
Sponsored Links:
Shelf Sliders Review
Shelf Sliders are plastic drawers that can be used in a variety of locations, such as the fridge on on a desk. To use Shelf Sliders, you simply pull up the flexible arms that hold them in place, and slide over the desired shelf.
First let's take a look at some of the "pros" regarding Shelf Sliders. They are colorful and attractive, and are simple to use. Depending on how you use them, they can actually save you space in your fridge, or other areas. Shelf Sliders can be used in the fridge, office, or garage.
On the "con" side of things, these are quite small for storage containers, barely bigger than the palm of your hand. The material is inexpensive plastic, and the arms may not easily clip onto thicker shelves or those with a lip.
Perhaps the biggest question is whether or not three small plastic drawers are worth $26, and in my case the answer would be "no." There are a number of similar items sold on Amazon (see below) and I have yet to find one that has overwhelming positive ratings.
Also keep in mind that if you purchase Shelf Sliders and decide to return it, you'll still be responsible for the initial shipping fees. If you opted for the "double offer" those fees will be over $10.
Alternatives
There are other products remarkably similar to Shelf Sliders, such as this $9 model, or this version with metal arms. Here is one of the most highly-reviewed versions on Amazon, although its consumer rating is quite low. You may want to peruse comments on these alternatives and keep them in mind as they apply to Shelf Sliders.
Television Commercial
Your Shelf Sliders Reviews
What are your thoughts about Shelf Sliders? Drop a comment below and a star rating above to let us know what you think about it.