Shiwala is an As Seen on TV microfiber 360-degree mop. Read our Shiwala Spray Mop review plus additional product information.
Sponsored Links
About Shiwala
Shiwala is a mop that can also replace a vacuum under some circumstances.
What They Claim
Microfiber swivel head
Center scrubbing pad absorbs spills and dirt
Locks in messes without dripping
Can pick up crumbs, dust, and hair off carpets
Works on all floor types
Washing machine and dryer safe
Shiwala Cost
From the product website, you can buy Shiwala for $29.95 + $6.95 P&H.
In March 2016, we spotted Big Boss Shiwala at Bed Bath and Beyond for $29.99. Replacement mop heads were also available for $9.99 for a set of two.
Reviews
Shiwala Spray Mop is a swivel mop which is said to combine the convenience of a portable sprayer with that of the efficiency of a spin mop. Shiwala offers high absorption and a non-scratch material. The head features a swivel design which allows you to clean around toilets or baseboards. The head can be placed in the washer and dryer, which extends the usefulness of the product.
Sponsored Links
Interestingly, the product has been marketed under a number of different (yet similar) names, such as Shiwala Magic Mop, Shiwala Spray Mop, and Shiwala Spin Mop. From what we can ascertain, these are different names for the same product.
Perhaps unique to this product is that it is advertised as able to replace a vacuum. While one might think that there is some sort of suction feature included, that's not what the advertising actually means. Shiwala's head can pick up hair and crumbs on carpeting. Can it replace a vacuum for an entire room? Probably not. But for spills and small areas, it actually could be used in lieu of a vacuum.
The materials may not be of the highest quality, but there are enough features to warrant this as a potential product to try if you're in the market for a spin or spray mop.
Some consumers have suggested that the trigger cannot be tightened and only sends a weak to moderate stream of water.
Now that Shiwala is available in stores, it is a much better deal. This allows you to avoid shipping costs, and gives you a chance to evaluate it in person for durability and size. You can also find it on Amazon, where it currently holds a 3.8 star rating.
The product website is shiwalamop.com, which was registered in April 2015. The screen capture below shows the official website in November 2015.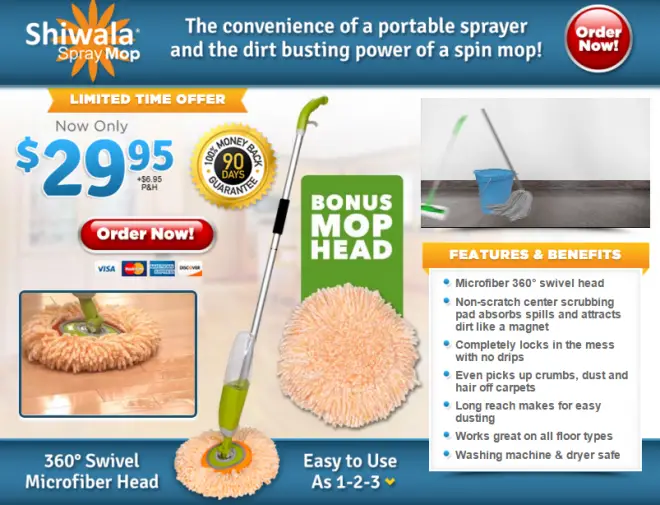 Your Shiwala Reviews
Let us know what you think of the Shiwala mop by leaving a comment below and a star rating above.
First published in November 2015
Updated May 29, 2016