Shoe Go Round is a shoe storage solution that can be stored beneath a bed. Does it really work? Here is my Shoe Go Round review.
Sponsored Links
About Shoe Go Round
Shoe Go Round is a circular footwear organizer that features 12 expandable partitions, handles on each side, and a zippered dust cover. The official product website is buyshoegoround.com, which was registered in August 2017. The screenshot below shows how the product website looked in September 2017.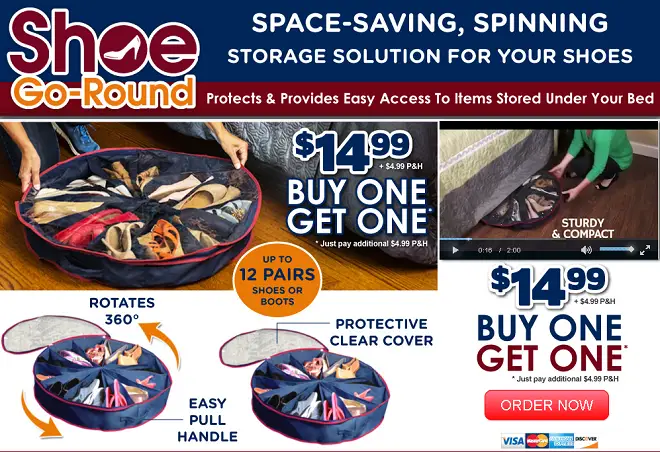 Claims & Features
Store under bed to save space
Makes it easy to store and access shoes
Circular design can be turned to reach every pair
Both sides have pull handles
Can hold 12 pairs of shoes
Includes clear plastic dust cover
Lightweight
Ideal for any shoe sizes (even boots)
Use for other items besides shoes
Cost
There is a mandatory double offer when ordering She Go Round. The cost is $14.99 + $4.99 P&H + $4.99 double offer for a total of $24.97.  At the time of this writing, She Go Round is not available in stores.
Shoe Go Round Review
If you're looking for a compact and organized place to store your shoes, the makers of Shoe Go Round may have just the item for you. This round plastic storage container allows you to neatly store 12 pairs of shoes under your bed for easy retrieval.
Sponsored Links
To use Shoe Go Round, you simply unzip the plastic cover and place your items inside. After filling it up, you then zip the cover and slide the unit under your bed. There are 12 dividers which help you keep your shoes separate and organized. As noted in the commercial, you can also use Shoe Go Round to store items other than shoes.
I like the see-through top, which allows you to take a peek at your choices before having to open up the unit. It's also a large product, which isn't necessarily bad because you need ample space to put all of those shoes. Keep in mind that you can store up to 12 pairs of shoes. Even in some of the commercial's examples you'll see less than 12 shoes in the organizer. That's because a large pair of shoes will take two slots (one slot per shoe). Men's dress shoes and tennis shoes will likely take two slots, meaning there will be some people who may only be able to store six pairs of shoes in Shoe Go Round.
The commercial puts considerable emphasis on the fact that Shoe Go Round is circular and can be rotated for easy access. I'm not sure that this is really as valuable as the commercial hints. There are rectangular shoe organizers from which you can grab any pair of shoes without the need to spin or rotate it at all. Plus, you can just as easily spin a shoe organizer of any shape to retrieve your shoes.
Of course there are numerous under-bed shoe organizers to be found in stores and online. This $15 set of two zippered organizers is currently listed as an Amazon Best Seller where it holds a 4.0 star rating among over 1300 ratings.
Your Shoe Go Round Reviews
Have you used Shoe Go Round or something like it? Leave a comment below and a star rating above to let us know your thoughts.