Sift Away is a stackable sifting litter box which allows you to easily clean up after your cat in seconds. Read our Sift Away review.
Sponsored Links
About Sift Away
Sift Away is a three-tray litter box which allows you to easily lift and toss clumps without wasting kitty litter. The official product website is getsiftaway.com, which was registered in May 2016. The screen capture below shows the official website as it appeared in July 2016.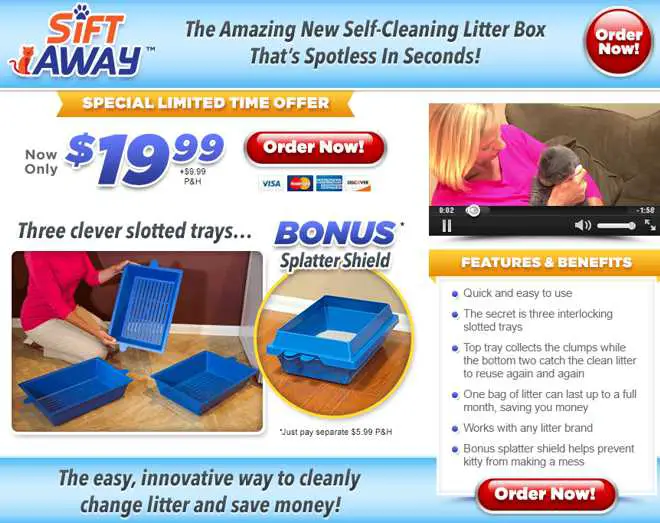 Claims & Features
Three interlocking trays
Top tray collects clumps while other two trays catch the clean litter
Makes little last longer
Can be used with any brand of litter
Bonus splatter shield (costs extra)
Cost
As of December 2016, Sift Away costs $19.99 + $7.99 P&H. The current online offer gives you three more trays for another $7.99 P&H. A grooming mitt is also included with your order. This totals $35.97 for 6 trays and the mitt.
Note that the screen shot above from July 2016 shows a splatter shield which is no longer offered, along with a different P&H cost.
There is a 30 day money back guarantee, minus P&H.
Sponsored Links
Sift Away is now available in stores. We spotted one at a local Fry's here in Las Vegas for $19.99.
Sift Away Review
Sift Away is a sift litter box which sports a three-tray design. These three trays are interlocking, with slots in the bottom. Each tray has slots in different places, and it only takes two trays to contain contents. This means that you can lift the top tray to remove clumps of litter, while unused litter will fall into the two trays below. The remaining two trays will continue to hold the litter in place. You then place what was the top tray on the bottom, and the repeat the process the next time you need to clean the litter box.
Although we wouldn't describe it as "self-cleaning" as mentioned on the product website, it does simplify the cleaning process greatly. Thus, there is no need for a scoop, as you merely need to lift the top tray, dump out the contents, and return that tray to the bottom. Cleanup takes only a matter of seconds.
Price-wise, Sift Away costs about $35 (when shipping and the "double offer" are factored in), which puts it toward the top of the sift litter box category. Buying locally will reduce your bottom line to a more acceptable $20.
We love the idea of Sift Away, although shipping costs and delays could force some consumers to look elsewhere. Those who do purchase it will most likely be pleased with their purchase. Now that it is available in stores, shipping costs and delays should not be a problem for those who want to try it out.
Alternatives
Sift Away isn't the only sift litter box on the market. You can find a number of them online and in stores, ranging in price from $15-$60. A popular competitor on Amazon is the Lift N' Sift, which runs about $28 with shipping.
You can also find several self-cleaning litter boxes which can run anywhere from $40-$200.
On the very high end is the Litter Robot, which is on its third generation and runs almost $700.
Television Commercial
Your Sift Away Reviews
Have you used Sift Away? Tell us what you think by leaving a comment below and a star rating above.
Updated December 2016