Simple Hang Review: Hang Anything in Seconds?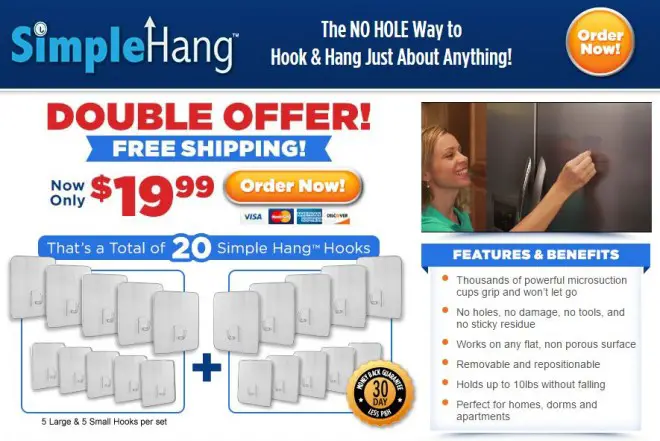 Simple Hang is advertised as a no-hassle way to hang almost anything.
Sponsored Links
About Simple Hang
Simple Hang is a suction-based hanging device which is said to allow easy hanging of almost anything.
The product website is buysimplehang.com, which was registered in December 2015. The screen capture below shows the official website in February 2016.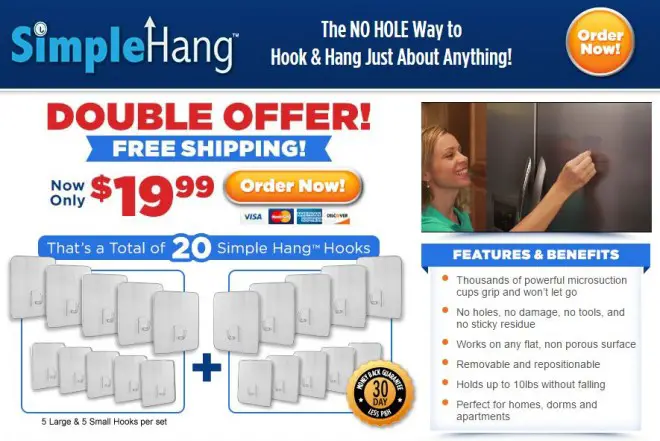 What They Claim
Each unit has thousands of micro-suction cups
Will not leave holes, damage, or residue
No tools required
Can be moved and re-positioned
Holds up to ten pounds
Works on flat non-porous surfaces such as glass, tile, metal, and wood.
Simple Hang Cost
You can get Simple Hang for $19.99 with free shipping. This includes 10 large and 10 small units.
Reviews
Simple Hang is a set of gripping pads which allow you to hang anything up to about 10 pounds on most surfaces. While Simple Hang appears to be a new product which is only in the test marketing phase as of this February 2016 report, similar products have been around for years.
Sponsored Links
Consider that major players such as Scotch and 3M have sold their own offerings in stores and online for years. You may also recall a product called Gripeez which was advertised online in 2015. Whether it's by 3M, Scotch, or Simple Hang, plastic mounts such as these tend to receive mixed reviews when used in large numbers.
The reason reviews are mixed for products like these is simple: User experiences vary greatly. A large number of variables will factor into your own experiences with the product. Keep in mind that such things as surface, weight of the object being hung, and the number of times it has been moved will all affect the performance of Simple Hang.
We've found that these types of products work best on very smooth surfaces such as glass, and performances tends to degrade the more it is moved. Wood cabinets tend to be the least effective surfaces.
Simple Hang seems to be in the test marketing (or limited marketing) phase, with only minimal advertising. New products such as this are often plagued by negative initial reviews related to shipping delays rather than the merits of the product itself.
Our researchers feel that Simple Hang will perform moderately well, provided consumer expectations do not exceed the product's capabilities. Alternatives are readily available locally, and may be worth investigating.
Your Simple Hang Reviews
Have you used Simple Hang? Give us your review by leaving a comment below and a star rating above.