Simply Contour is a body-shaping garment that compresses the waist while lifting the butt. Does it work? Read our Simply Contour review.
Sponsored Links
About Simply Contour
Simply Contour shapes your body to give you an hourglass shape. The product website is simplycontour.com, which was registered in May 2016. The screen capture below shows the official website in November 2016.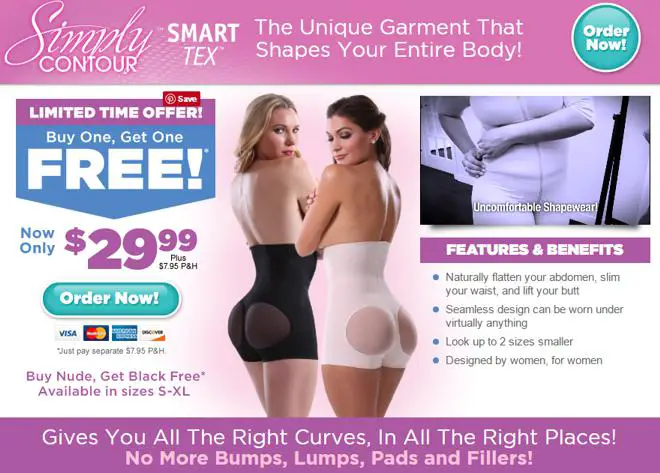 What They Claim
Naturally flattens, slims, and lifts
Fabric breathes, expands, and compresses
Can be worn under anything
Look up to 2 sizes smaller
Designed by women, for women
No more hooks, zippers, or muffin top
Sizes small, medium, large, and extra large
Simply Contour Cost
Simply Contour costs $29.99 plus $7.95 P&H plus another $7.95 for a mandatory second "free" item, bringing your total to $45.89.
Sponsored Links
Simply Contour Review
Shapewear has been a hot product in the As Seen on TV industry for the last couple of years. In 2015 we had such products as Miss Belt, Genie Hourglass, and even the V-Shape Trainer for men. Simply Contour is yet another shaping product, although it offers a slightly different take on the idea.
If this item looks familiar, it was marketed in early 2016 under the name Sensual Contour – and the website for that version (sensualcontour.com) is still online as of this writing.
Whereas such products as Miss Belt are glorified corsets and waist trainers, Simply Contour combines waist compression with a butt lifting bottom. Wearing it alone may look somewhat strange, but under clothing is it mostly unnoticeable, and does provide a more hourglass look than when it isn't being used.
The concept of simultaneously compressing the tummy while lifting the butt does in fact provide a stark differences. With four sizes offered, most women should be able to find the right fit, although if you fall somewhere between sizes, you may want to lean toward the smaller of the two, as it is meant to be tight and provide compression. Choosing a size too large will not provide optimal results.
One "con" with this product which may not be readily apparent is that of bathroom breaks while wearing it. Because it is a single unit, there is more involved than some women may like.
Overall Simply Contour should work as advertised for most women. We feel that once consumer reviews are in, it will amass around a 3.5 star rating.
Alternatives
You can find waist compression garments and butt lifting underwear similar to that included in Simply Contour, although it is less common to find them both combined into a single product.
If you are interested in shopping around, you might want to take a look at a product called SAYFUT Women't Butt Lifter Shaper which provides the same features as Simply Contour. That product sells for under $13 and holds a 3.6 star rating.
Television Commercial
Your Simply Contour Reviews
Have you used Simply Contour? Give us your review by leaving a comment below and a star rating above.