Simply Fit Board is a workout board that was featured on Shark Tank which focuses on your core. Read our Simply Fit Board review.
Sponsored Links
About Simply Fit Board
Simply Fit Board tones your abs and leg muscles in a fun and simple way. The official product website is simplyfitboard.com, which was registered in December 2012. The screen capture below shows the official website as it appeared at the time of this writing in May 2016.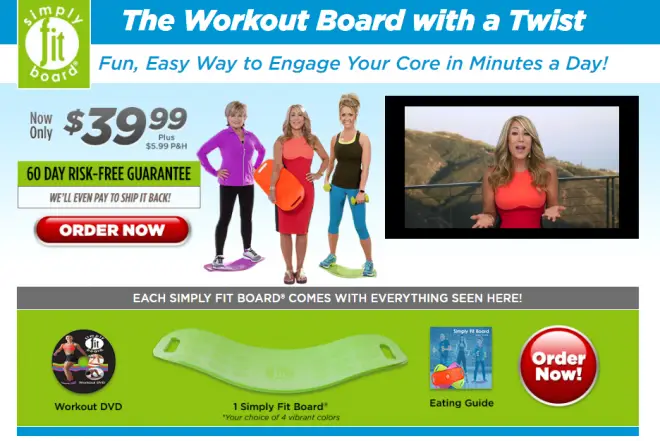 Claims and Features
Easy and fun to use
Lightweight and portable
Supports up to 400 lbs
Tones abs, legs, and your entire core
Improves your balance
Available in four vibrant colors: Orange, green, magenta, and blue
DVD includes 6 exercise routines
Can be used on all flooring types
Cost
$39.99 + $5.99 P&H.
You can find Simply Fit Board in stores for about $40.
Sponsored Links
Simply Fit Board Review
Simply Fit Board first gained notoriety when it was featured on an episode of Shark Tank. The idea is rather simple: A balance board which can hold up to 400 pounds, which allows you to perform a variety of exercises, most notably a "twist" which is said to set it apart from other balance boards.
The board is curved upward and you stand on each end, meaning your feet are slightly off the ground and you must balance while standing on it. This helps work your core muscles. If you are performing upper body exercises such as push-ups, your hands will be placed on the sides of the board, which also forces you to balance while you workout.
There are a number of exercises which are given as potential ways to use the board. Squats, for example, may be more demanding while attempting to balance at the same time. Yoga planks may also include a twisting motion to increase efficiency.
A 5-day workout guide provides a comprehensive plan to using the board on a daily basis. For example, Monday is "Push Day" with a number of upper body exercises. Tuesday is "Basic Twist & Ab Day" while Wednesday is "Leg & Glute Day." Thursday is another "Basic Twist & Ab Day" followed by "Pull Day" on Friday.
Consumer feedback has been largely positive. The board is praised for its durable construction and portability.
The primary complaint we have heard is that it tends to "travel" while twisting. This can be alleviated by using it on a small rug with a rubber backing. The creators also suggest buying a single large floor tile to twist on if your carpet is thick and creates too much resistance.
Although Simply Fit Board is a new "twist" on balance boards, it's certainly not the only game in town. You can find a number of twist exercisers for sale, with a variety of sizes, shapes, and prices.
Perhaps an underrated "pro" of the product is that customer service on the Simply Fit Board Facebook page is quite responsive.
Overall, Simply Fit Board is a highly-rated balance board which is quickly amassing a legion of fans.
Your Simply Fit Board Reviews
If you've used Simply Fit Board please give us your opinion by leaving a comment below and a star rating above.