I was recently sent an interesting gadget for consideration for my online store. This kitchen item supposedly holds small round fruits and veggies such as lemons and tomatoes, providing a guide for easy slicing. Does it actually work? Read on to find out!
Sponsored Links
Where to Purchase
Because I declined to offer this in my store, I don't have a link to the specific sample I tested, but you can find similar items on Amazon, such as this metal version, although you may want to read the rest of this review before purchasing!
Slicer Holder Review
There doesn't appear to be a name for this type of product, although "Slicer Holder" seems to be the inelegant, unofficial name. The idea behind it is that you can place your item in between the two slotted tongs and cut through the guides to get uniform slices. It does sometimes work like that under the right conditions, but a few issues exist that prevent it from being a successful design.
As you'll note in the comments for the metal version linked above, the primary issue – even when the food does fit in the unit – is that cutting all the way through your food can be a challenge. I tried it on a few different items such as lemons and tomatoes and was usually left with a partially cut fruit that I still had to finish without the slicer holder.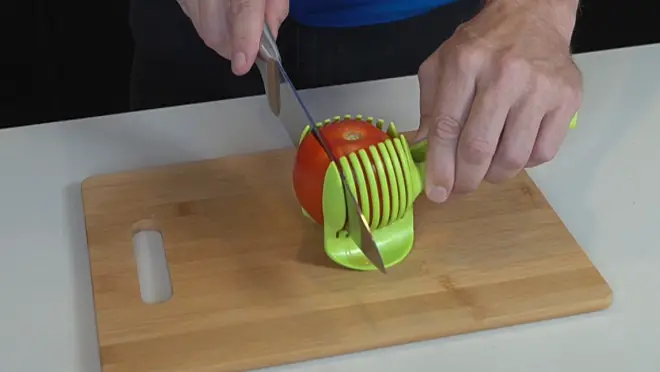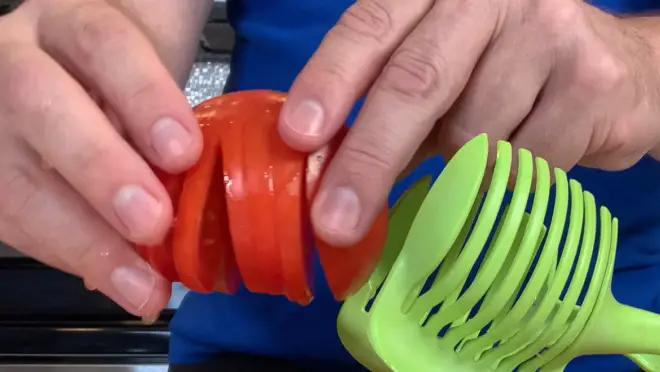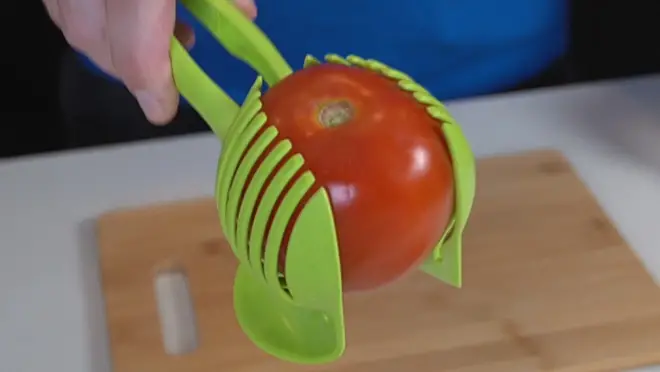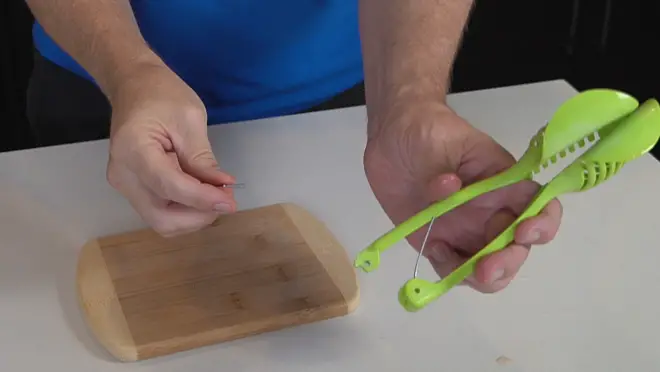 Those who have used metal versions of this item claimed that the steel models damaged their knives, thus I was happy to see this silicone version. That excitement was short-lived, however, when I realized that the silicone guides were too flexible, which in turn made cutting straight difficult.
The model sent to me had even more problems, as a pin holding the unit together kept falling out. A spring in the handle also fell out and was difficult to re-install.
If the above issues weren't enough, the final nail in this product's coffin is that it only accommodates small, round foods. Oblong or large items need not apply. This flaw was demonstrated when I placed a large tomato in the unit, and you can see in the photo above that it would be impossible to cut because the guidelines no longer lined up.
In the end, I'm glad I tried it – and it seems like a good idea on paper – but this product needs to go back to the drawing board before it can be of any practical use.
Below is a short clip of this product's highlights – and lowlights.
 

View this post on Instagram