Slim Lens Review: Ultra-Thin Reading Glasses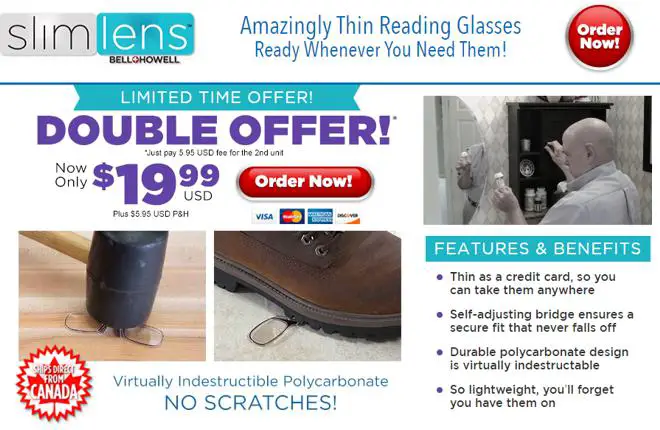 Slim Lens is a portable set of reading glasses which sport a thin design for easy carrying. Read our Slim Lens review.
Sponsored Links
About Slim Lens
Slim Lens is a pair of reading glasses which are as thin as a credit card. The official product website is slimlens.ca, which was registered in August 2016. The screen capture below shows how the official website appeared in August 2016.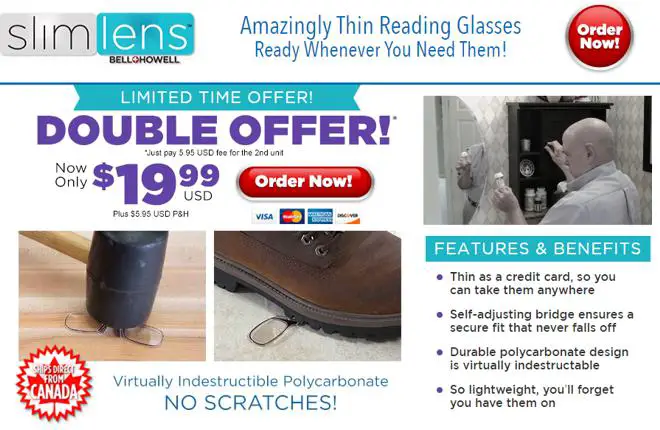 Claims & Features
As thin as a credit card
Self-adjusting bridge
Never falls off
Virtually indestructable
Available strengths are +1.5, +2.0, +2.5
Cost
Slim Lens costs $19.99 + $6.95 P&H. You can add a second pair for $5.95. Prices are in US Dollars.
Sponsored Links
Slim Lens Review
Slim Lens is a compact pair of reading glasses which allows you to carry them with you more easily. Slim Lens comes in a "micro-case" which makes it easy to keep in a purse or pocket, without worrying about scratching the lenses. The case can also attach to flat surfaces, such as the back of a smart phone.
Slim Lens is a type of pince-nez glasses, meaning it stays in place by a grip on the bridge rather than using ear pieces. This facilitates the slim design, although not all consumers may be comfortable wearing pince-nez glasses.
In all fairness, the use of the Bell & Howell in the Slim Lens name is somewhat meaningless. Bell & Howell is a trademarked name which is licensed to a number of third party manufacturers for use in consumer electronics.
You'll also want to take claims that the lenses are "virtually indestructible" with a grain of salt, and we don't recommend putting them to the hammer test shown in advertising.
The pros of Slim Lens are that is compact, durable, and convenient. The cons are that some consumers may be put off by its pince-nez design, and that its cost is significantly higher than regular reading glasses.
If convenience is of utmost concern, Slim Lens might be worth a look. Those concerned with cost and a more familiar design may want to stick with regular reading glasses. For those on the fence, Slim Lens could work as an excellent backup pair stuffed into a purse. Or you could look into similar alternatives.
Alternatives
Slim Lens appears to be inspired by (or could be described as an outright knockoff of) ThinOptics, which features many of the same benefits in its advertising. That item can be found on Amazon, where it sports about a 4.2  star rating among over two thousand of consumer reviews.
Your Slim Lens Reviews
Have you used Slim Lens, or are you considering buying it? Tell us what you think in the comments below and leave a star rating above.
Tags: