Slim Panties 360 is a slimming shape-wear garment. Read our Slim Panties 360 review plus additional observations.
Sponsored Links
About Slim Panties 360
Slim Panties 360 compresses your lower body to make you appear two sizes smaller. The official product website was originally slimpanties360.com, which was registered in July 2015. The screen shot below shows the official website as it appeared in April 2016. As of July 2016 the official website began forwarding to geniebra.com.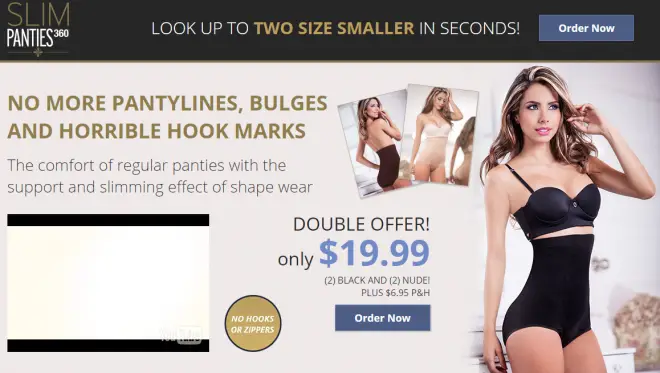 Claims and Features
Look up to two sizes smaller
No bulges or hook marks
Instantly shapes your body
Extra wide compression band
Breathable fabric
No seams, buttons, hooks, or zippers
Never rolls down
Covers entire waist and abdomen
Four sizes: Small, medium, large, x-large
Slim Panties 360 Cost
The original television offer was is $19.99 + $6.95 shipping, for a total cost of $26.94.
The current offer at genie.com is $59.97 for 3 black and 3 nude (6-pack). You can now find Slim Panties 360 in stores for about $20.
Reviews
Shapewear is a booming business in the As Seen on TV industry, and Slim Panties 360 is one of the more prominent offerings to appear in 2016. The product is said to reduce the appearance of belly fat without visible lines or wrinkles, and without some of the discomforts associated with other slimming garments.
Sponsored Links
The secret, they say, is in its design that features a wide compression band, and its integration into panties, making it a seamless experience. Thus, your shape-wear and your panties are contained within the same article of clothing. A non-slip silicone band is included at the top to prevent it from rolling up (or down) as you wear it.
The design is an excellent way to use shapewear without obvious lines highlighting what is on underneath your clothing. Our product researchers feel that the material is of adequate quality and will likely be praised by the majority of consumers. It is a rather simple and foolproof design that should work for most people.
The lack of a sizing chart is a potential point of contention. What, for example, is a small? Or a large? As Seen on TV clothing products are notorious for having sizing problems, and this may only be magnified by the lack of a sizing chart. Now that it is available in stores, you may want to pick it up locally, where you can take a closer look before making your final purchase.
One tester wanted to point out that using the restroom while wearing garments such as this can be a bit more of a task, as it must be pulled all the way down and then re-positioned afterward. Depending on what you are wearing over this, it could be a battle not worth fighting.
Alternatives
Despite its "revolutionary" claim, the design of Slim Panties 360 may seem somewhat familiar to you, as there are other shapewear brands which are integrated into panties. There are a number of garments by Spanx (see examples here) which closely resemble Slim Panties 360, and are priced roughly the same.
Flexees by Maidenform is another popular brand of shapewear undergarments. This Hi-Waist Brief Firm Control product, for example, boasts a similar design and has a 4+ star rating among hundreds of customers. You can also find Flexees in some stores such as JCPenney.
It may pay to shop around.
Television Commercial
Your Slim Panties 360 Reviews
If you have used Slim Panties 360 please give us your thoughts by leaving a comment below and a star rating above.
Updated December 2016 to reflect updated pricing, current website, and local availability.