Slim and Tone Leggings are advertised as a "seamless comfortable compression" product which shapes and lifts. Read our Slim and Tone Leggings review, plus key product information.
Sponsored Links
Slim and Tone Leggings are by Genie, known for the Genie Bra and Cami Shaper. The product is advertised as a way to shape and lift problem areas for women. They feel somewhat like a thicker version of regular leggings, and the feel of them has an overall comfortable feel.
Stand-alone garment?
There is debate whether or not these could be worn as a stand-alone product. Some users have said that they felt like they were walking around in pantyhose, and felt inappropriately dressed while only wearing the Slim and Tone Leggings.
See-through
Another concern that was brought to our attention is that the sheer leggings do not completely hide lighter undergarments or even skin. In other words, they are somewhat see-through.
Customer Service
Most complaints we have heard focus on poor, slow, and unresponsive customer service when orders are placed through the website.
The product is available in stores such as Walmart or Bed, Bath, and Beyond, and you are best advised to purchase the product at one of these locations to avoid shipping fees and sketchy customer service.
Slim and Tone Leggings "About" paragraph
Slim and Tone Leggings give you "5 zones of comfortable compression to help reduces the appearance of cellulite, lumps, bumps & bulges".
Sponsored Links
Official Website
slimandtoneleggings.com
Registered July 26, 2012
Contact Info
Monday – Friday at 9:00 am till 8:00 pm EST
Saturday and Sunday at 9:00 am till 5:00 pm EST
Phone: 973-287-5155
Claims/Features
This product is available in stores such as Bed, Bath, and Beyond
Instantly look up to 10 pounds slimmer and 2 sizes smaller
High waist seamless legging features a built-in invisible shaper with 5 zones of comfortable compression targeting your trouble areas.
Helps eliminate extra layers while concealing lumps, bumps, cellulite and bulges.
Built-in invisible shaper with comfortable compression targeting entire midsection and love handles, hips, inner thighs, outer thighs and buttocks.
Luxurious legging that helps smooth you from under the bra to the ankles.
Zero-cling silky finish lets fabrics move freely without sticking.
Versatile shaping can be worn as a high waist or rolled over double control lower waist.
Ultra soft, lightweight design.Breathable cotton gusset.
Cost
19.99 plus 7.99 P&H = $27.98
Get a second one for another 7.99 P&H for a grand total of $35.97
You can purchase it locally to avoid shipping delays and costs.
Screenshot
Here is a screen shot of the official website, taken in February 2014: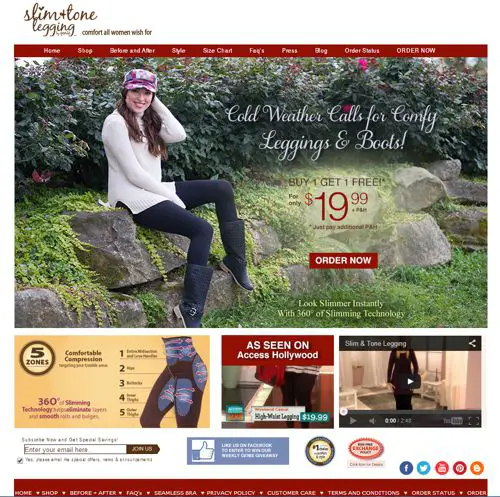 Television Commercial
Watch a recent commercial for Slim and Tone Leggings below:
Slim and Tone Leggings Reviews
Have you tried Slim and Tone Leggings? Please give us your review in the comments below and give it a star rating above.