Smart Swab Review: Ear Wax Removal Device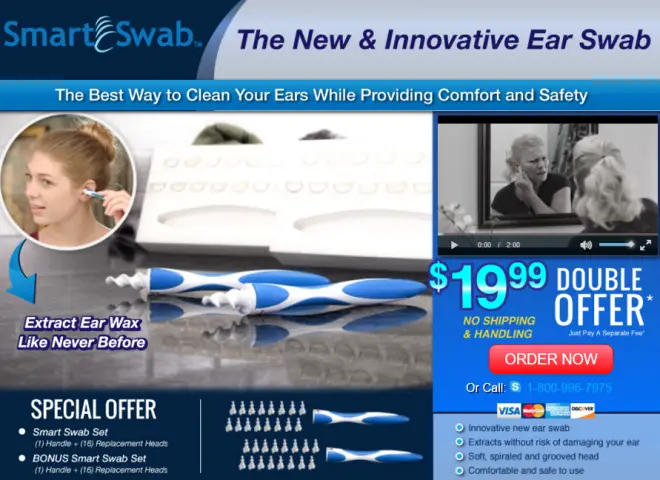 Smart Swab is an innovative ear wax removal device that is designed for maximum safety and comfort. Read our Smart Swab review here.
Sponsored Links
About Smart Swab
Smart Swab cleans your ears safely without pain, damage, or discomfort. The official product website is smartswab.com, which was registered in July 2008. The screen shot below shows the official website in April 2016.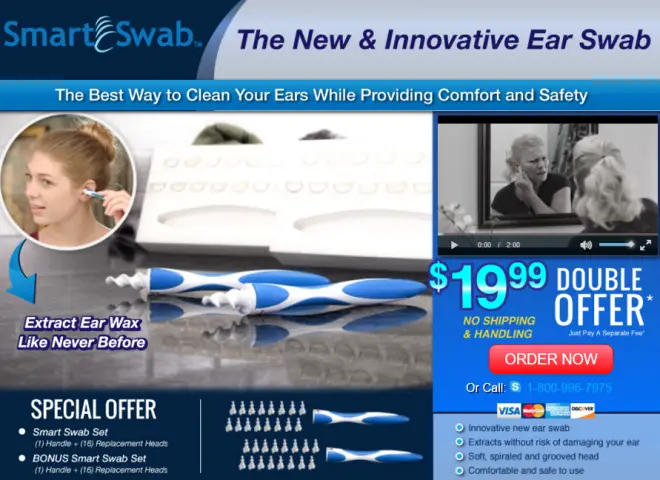 Claims and Features
Extracts without damaging your ear
Soft, spiraled, and grooved end
Comfortable and safe to use
Disposable and replaceable tips
Doesn't push wax deeper into your ears
Smart Swab Cost
Single Offer: $19.99 + Free S&H. The Double Offer is $19.99 + an additional $6.99 fee + Free S&H.
You can now find Smart Swab in stores, typically in the As Seen on TV section.
Smart Swab Review
The opening moments for the commercial for Smart Swab (below) reminds us of the highly mocked spot for WaxVac a few years ago. Both that product and this one begin their advertising with somewhat exaggerated and exasperated examples of consumers fumbling to clean their ears. Enter Smart Swab, an ear wax remover that is said to be superior at cleaning ears over traditional methods. Ironically, Smart Swab takes a stab at WaxVac, asking, "Do you really think you can vacuum out ear wax?"
Sponsored Links
Smart Swab is a rubber spiral tip that is designed to go into the ear, but not far enough to cause any harm. Once you place the tip in your ear, you give the handle a twist, which will "latch on" to any wax, and pull it out.
As far as effectiveness goes, Smart Swab seems to work about as expected, with a soft tip that doesn't go too far into the ear. Be careful using it on a child, as their ear canals may not be as deep as found in an adult.
If you take advantage of the current double offer, you'll pay about $27 for a total of 40 tips and 4 handles. That equates to about $0.68 each. Obviously the product is designed to be disposable, although we imagine at least some users will rinse and re-use the tips in order to save money. There are non-disposable picks with a scooped tip that you can find for under $10.
There are a number of ear cleaners to be found online and in stores. Some look rather gruesome and unsafe, while others seem to err on the side of caution. You may want to browse some of the other offerings out there. For the particularly thrifty shopper, you may want to hit a well-stocked dollar store, as there have been ear cleaners available in these types of stores in recent years.
Overall, not a bad product, although there are less expensive options worth exploring.
Television Commercial
Your Smart Swab Reviews
If you have used Smart Swab please give us your thoughts by leaving a comment below and a star rating above.