Smoothbag is a portable lounge chair that can be inflated in seconds without a pump. Read our SmoothBag review.
Sponsored Links
About SmoothBag
SmoothBag is an air-filled lounger that can be inflated in seconds without the need for a pump. The official product website is smoothbag.com, which was registered in May 2016. The screen capture below shows the official website as it appeared in July 2016.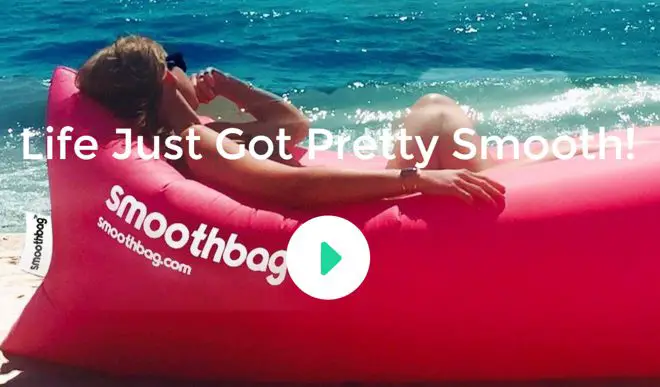 Claims & Features
Lightweight, weighs 2 lbs (less than a laptop)
Comes in a convenient carry bag
Fills in seconds without requiring a pump
Available in blue, black, green, pink, purple, red, orange, and yellow.
Holds up to 450 pounds
Made from the same material as parachutes and kites
Inflates to 80 x 40 x 40 inches
Durable. Can be used on rocks, concrete, forest ground, etc.
Cost
You can buy SmoothBag from the official website for $59.99. Shipping is free to the USA and Canada.
Delivery should take about 5 to 7 business days.
SmoothBag Review
SmoothBag is an air-filled lounger which can be inflated in seconds without the use of a pump. It is one of many such air chairs which have hit the market in recent months.
To use SmoothBag, you unfurl the parachute material to expose an open end which feeds two different air chambers. If it is a windy or breezy day, you can simply hold the device up in the wind, allowing air to fill it. If there is no breeze, you may have to run for a few seconds in order to inflate it.
Once it has been inflated, you simply roll up the open end and and clasp the two ends together. The chair is now filled and can be used immediately. SmoothBag includes two air-filled chambers. The crease between these two chambers is where you will sit or lie once it is inflated.
Sponsored Links
To un-inflate, you simply open up the end to release air, then roll up the bag. It can then be placed into its carrying case, which comes with your purchase. SmoothBag is available in eight vibrant colors.
Although it isn't specifically designed for this use, you SmoothBag could be used temporarily as a non-emergency floating chair. The material is durable enough to resist tearing for everyday use.
SmoothBag is ideal for camping or lounging by the pool. It could also be used at the beach, although it probably couldn't be left alone in the wind without being blown away. Make sure someone watches your chair while you go take a dip in the water.
There is one caveat, which will vary among users, regarding inflation. As you see in the video below, it can take a bit of technique and athleticism in order to fill the bag. If there is no wind, you will have to run in order to capture enough air to fill the bag, then quickly close it off before the air escapes. It looks easy in the video, but not everyone masters this technique upon their first attempt.
To their credit – and unlike some of the other fly-by-night companies selling these types of loungers – the SmoothBag brand is quite active on social media, with helpful reps answering customer questions and concerns.
Overall, SmoothBag appears to be one of the better-made loungers on the market, and the company seems here to stay. We applaud them for keeping reps on hand to handle customer service questions and concerns, and for its quick shipping.
There are a number of air loungers on the market, and SmoothBag is on the higher end of the spectrum regarding customer service and quality. Price-wise, SmoothBag is competitive.
Overall, SmoothBag is one of the better entries in this category.
Alternatives
In mid-2016, a large number of these types of loungers all seemed to show up at the same time. Many of these briefly advertised on television and then disappeared just as quickly as they arrived. Examples of these included 6 Second Lounge, GoLounge, and Pouch Couch. (Of those three, only Pouch Couch is still around).
There are a number of similar devices to be found on Amazon, typically costing about the same as SmoothBag. See the wide variety of similar loungers on Amazon here. Beware when reading reviews there, as it is apparent that a number of these product listings have been infiltrated by fake reviewers.
Gear Junkie states that the original in this category is Lamzac, while WindPouch sports a relatively positive rating among the category on Amazon.
Video: How to Inflate your SmoothBag
Your Smoothbag Reviews
If you've used SmoothBag, tell us what you thought by leaving a comment below and a star rating above.