Snackeez is advertised as the all-in-one, go-anywhere snacking solution. Here is our Snackeez review plus additional consumer information.
Sponsored Links:

Snackeez is a portable snacking station, allowing you to carry your drink and snack together in one hand. Its design resembles a large glass with an upper cup area for snacks. A straw reaches the drink below, allowing you to carry a drink and snack at the same time. Both the snack cup and straw have lids to prevent spills.
This is a very new product and we have not seen it yet in person. Have you? Let us know what you think of the product.
What we want to know is if Snackeez is durable, or cheaply made. We also want to know if it is really as spill-proof as advertised. What other features have you found of note regarding Snackeez?
Below is additional information about Snackeez.
Official Website
getsnackeez.com
Registered April 29, 2013
Contact
Address: Snackeez, 400 Returns Rd, Wallingford, CT 06494
Phone: 866-322-5547
Email: [email protected]
Claims& Features
Hold a 16 oz. drink and your favorite snack, all in one hand
Sealed to keep snacks fresh and prevent spills
Dishwasher safe
30-day money back guarantee, less shipping
Available in four two-tone colors: pink/blue, blue/green, neon green, and neon orange.
Cost
$9.99 plus $5.99 shipping and handling = $15.98
Get a second Snackeez for another $5.99 for a grand total of $21.97
Screenshot
Below is a screenshot of the official website, taken in November 2013: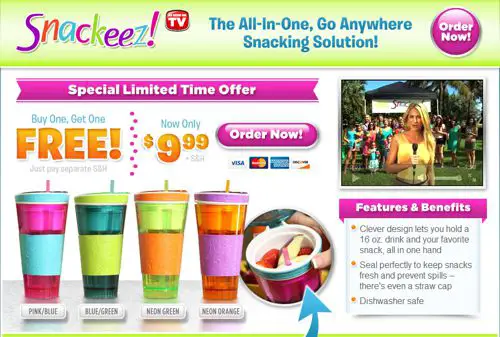 Television Commercial
Below is a recent television commercial for Snackeez:
Snackeez Reviews
Have you tried Snackeez? Please give us your review in the comments below and give it a star rating above.
Sponsored Links: