Snap Power is brand of wall outlet covers which provide light or USB power with no wires or batteries. Read our Snap Power review.
Sponsored Links
About Snap Power
Snap Power is a brand of outlet "guidelights" and chargers which can be installed in seconds. The product website is snappower.com, which was registered in March 2005. The screen shot below shows the official website as it appeared in July 2016.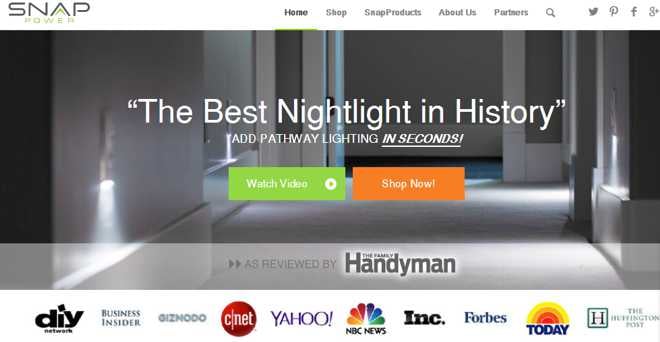 Claims & Features
Two designs: Guidelight and Charger
Attractive design
LED lights cost less than 10 cents per year and last 25 years
Installs in seconds
No wires or batteries
Duplex and decor designs
Available in white, light almond, or ivory
Cost
Chargers
Duplex or Decor Single: $20
Duplex or Decor 2-Pack: $38 ($19 each)
Duplex or Decor 3-Pack: $54 ($18 each)
Duplex or Decor 5-Pack: $85 ($17 each)
Duplex or Decor 10-Pack: $160 ($16 each)
Guidelights
Duplex or Decor Single: $15
Duplex or Decor 3-Pack: $42 ($14 each)
Duplex or Decor 5-Pack: $65 ($13 each)
Duplex or Decor 10-Pack: $120 ($12 each)
At this time, Snap Power products are not available in stores. You can purchase from the official website or on Amazon.
Snap Power Review
Snap Power is a brand of specialty outlet covers which provide additional functions without wires, batteries, or elaborate installation. These products do not take up an outlet, but draw power via prongs which connect to screws inside the outlet.
Sponsored Links
Snap Power GuideLights replace a standard outlet cover, and draw power to illuminate three lights at the bottom of the unit – essentially working as an automatic nightlight. The amount of light given off is determined by a light sensor. The more light in a room, the less light given off; the darker the room, the more light given off. There may be some areas in the home where the Snap Power Guidelights never fully turn off if the area is not very bright. Because of its minimal power consumption (about 10 cents per year), however, it is of little concern if the lights fully go out or not.
The Snap Power Charger allows you to operate or charge USB devices without taking up one of the two outlets. It features a single standard USB input at the bottom of the device.
Both the guidelights and the charger come in three colors, and two different designs: Duplex or Decor.
Those who have purchased Snap Power products have generally been pleased. Online reviews tend to rank around 4.5 stars, with a high level of consumer satisfaction reported. We think the durability, construction, and aesthetics make Snap Power a winner. If you purchase either of these Snap Power products, we believe you'll satisfied with the function and design.
The only complaint we've heard about Snap Power products is that the price seems quite high for a nightlight or an extra USB outlet. There are a number of potential customers who said they will wait to see if the price drops.
Both of the Snap Power products are well constructed and are UL Approved in the U.S. and Canada. There is currently no GFCI version.
Alternatives
You can find a number of other outlet chargers online and in stores. Top Greener offers a Dual USB charger which functions similarly to that of the Snap Power charger. That runs about $20 and is ranked as a #1 Best Seller in its category. There are also devices which offer multiple inputs, such as this Bestten Charging Center which provides three outlets and 4 USB ports.
You'll have less luck finding lighting which functions similarly to the Snap Power Guidelights. Some customers, however, prefer power failure lights, which will take up one outlet, but continue to function in the case of a power outage. Capstone sells a popular model in this category.
You may also be interested in GlowBowl, which is an automatic night light for your toilet! Read our GlowBowl review here.
Overall, we find Snap Power to deliver high quality products which work as advertised. We feel that the Snap Power GuideLights are the more unique of their offerings, with few (if any) competitors providing a product of this design. There are a number of products which offer as much (or more) than their Charger, however.
Customers are generally happy with both Snap Power products, although some have said they will wait to see if the price drops before trying it out. $20 for a night light may not be an easy sell to some consumers.
Official Product Video (Guidelight)
Your Snap Power Reviews
What do you think of Snap Power? Give us your opinion with a comment below and a star rating above.