Snore MD Pro is an anti-snoring device.
Sponsored Links
About Snore MD Pro
Snore MD Pro is a form-fitting device that helps people stop snoring.
The product website is snoremdpro.com, which was registered in April 2014. The screen capture below shows the official website in October 2015.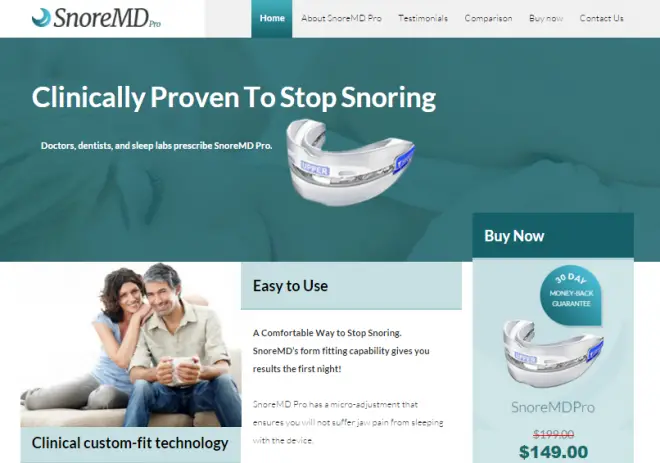 What They Claim
Clinically proven to stop snoring
Results after the first night
No jaw pain – guaranteed comfort
Custom-fit technology
Solves all types of snoring
Patented safety
Snore MD Pro Cost
Online (Website) $149.00 + Free Shipping (2 – 7 business days)
Sponsored Links
Reviews
Snore MD is an oral appliance designed to stop snoring. It can be adjusted up to 6mm in 1 mm increments, allowing you to advance the lower jaw and open the jaw enough to prevent the vibrations which manifest as snoring.
With an airflow hole, allowing you to breathe through your mouth, Snore MD Pro is customized to your mouth via the common boil-and-bite technique. Reviews for the products are solid, and most consumers will find that it does exactly as it is claimed to do.
As with many anti-snore devices some users have found there to be soreness, especially after the first couple of uses. You may want to play around with the settings until you find one that helps prevent snoring, while also leading to minimal soreness. Cleaning a nightly mouthpiece is never a fun task, but it is something virtually any similar apparatus will require, so we can't really call this a "con" related to this specific product.
The cost is perhaps on the higher end of over-the-counter anti-snoring devices, but its effectiveness should make the price irrelevant to those who are seeking relief from snoring.
A solid offering in this category.
Your Snore MD Pro Reviews
Let us know what you think of Snore MD Pro by leaving a comment below and a star rating above.