Snuggie Tails are fleece wraps for kids which are available in a variety of character designs. Read our Snuggie Tails review.
Sponsored Links
About Snuggie Tails
Snuggie Tails are character fleece wraps for kids under the Snuggie brand name. The official product website is snuggietails.com, which was registered in April 2016. The screen capture below shows the how the official website looked in July 2016.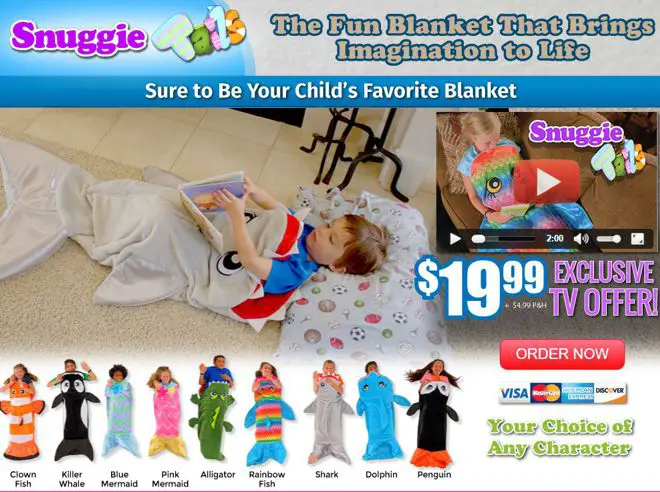 Claims and Features
9 underwater characters: Clown fish, killer whale, blue mermaid, pink mermaid, alligator, rainbow fish, shark, dolphin, and penguin. (This may have changed: see below)
5-foot design fits all
Machine washable
Can be used as blanket, sleeping bag, or fun costume
Cost
You can get Snuggie Tails for $19.99 + $4.99 P&H. There is a 30 day money back guarantee, less shipping.
Snuggie Tails are now available in stores for about $20.
Snuggie Tails Review
The infamous Snuggie brand is back with an offering for kids known as Snuggie Tails. These fleece blankets offer a variety of underwater character designs with one end fully-enclosed like a sleeping bag.
Sponsored Links
Snuggie Tails can be used as a sleeping bag, blanket, wrap, or as a fun character "costume." The blankets fit anyone under about 5 feet tall.
Originally, the website showed 9 character designs. As of December 2016 the website now shows only 8, with the alligator design removed, but only four are available to add to cart: shark, rainbow fish, pink mermaid, and blue mermaid. We have currently only seen the pink mermaid and shark sold locally, although this is bound to change over time and vary by location.
The material is soft fleece, which should satisfy the vast majority of users. The commercial states that "the stitching is durable and made to hold up to even the most active kids." That, however, treads on dangerous advertising ground, as there are bound to be instances where "the most active kids" get the best of Snuggie Tails, prompting parents go online to complain about tears or holes. As with any stitched item, there are limitations, kids should be reminded that it is a blanket and not a toy.
Overall, we find Snuggie Tails to be a worthy offering under the Snuggie brand name, and our product researchers feel that it will garner around a 4-star rating once consumer reviews appear online.
Snuggie Tails are marketed by Allstar Products Group, which currently holds an "A" rating with the Better Business Bureau.
Alternatives
Despite using the long-standing Snuggie name, it would appear that Snuggie Tails is a knockoff of, or has borrowed in some way from, Blankie Tails. That brand points out that it is "The original mermaid and shark blankets." It, too, offers underwater character blankets for kids. That product is highly rated and costs about $37.
The official Blankie Tails website was registered about six months before the Snuggie Tails website.
You may be interested in some consumer reviews on Amazon of Snuggie Tails, where you'll find a mostly positive consensus.
Your Snuggie Tails Reviews
If you've used Snuggie Tails, please give us your opinion by leaving a comment below and a star rating above.
Updated December 2016